Joliet group plans to keep fighting despite judge's ruling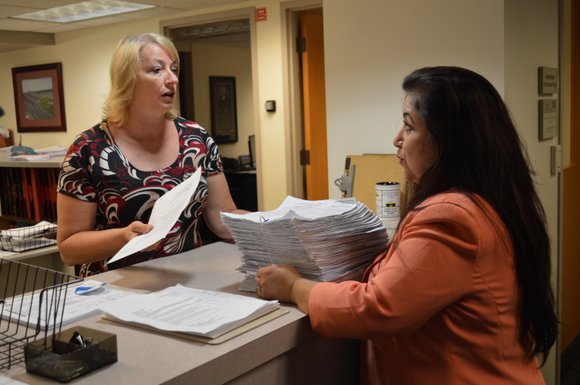 A Will County judge this week ruled that a referendum question aimed at restructuring the Joliet City Council will not be placed on the November ballot.
Will County Judge John Anderson late Wednesday said the referendum was "defective on its face" due to it calling for the redistricting plan to happen before a map of the new districts could be drawn.
The referendum proposed by the Concerned Citizens of Joliet group included a question for voters as to whether the city of Joliet should cease to elect council members at-large and instead draw eight districts with only one council member to be elected from each district and the mayor continued to be elected at-large.
The problem came in the dates for everything to happen. According to the referendum proposal, if approved the city would need to redraw the council map to reflect eight districts by December 2017. It further called for the council structure to be in place by the April 2017 election. Candidates, however, can start taking out petitions to run for office later this month. Those candidates would start the process of running for seats not knowing whether the referendum would eliminate the office they were seeking to fill.
Anderson's ruling on the matter came as a disappointment to organizers of the Concerned Citizens of Joliet group.
Maria Rosas-Urbano, defendant in the case, said she and other organizers are now regrouping and deciding their next step.
"Right now, we're disappointed with the decision made by the judge after more than 5,000 residents signed the petition to put the referendum on the ballot."
Rosas-Urbano added that she is confident she and others are doing the right thing by pursuing better city council representation for all Joliet residents.
"Joliet is not the same city that it was 50 years ago when this system of government was first put in place," she said.
Rosas-Urbano said she and other organizers from the group will continue to work for change. An election is right around the corner and she and others plan to make sure people know the issues and take part in the political process.
"We want to make sure people get out and vote, strive for a better government and know that democracy does work if you get out and vote," she said.
Rosas-Urbano said too many people in Joliet are disenfranchised and things need to be changed.
It remains to be seen whether the group will begin circulating petitions again for another referendum proposal.
"I'm not at liberty to completely discuss what our next steps will be going forward," Rosas-Urbano said.
Rex Robinson can be reached at rexr1008@gmail.com.