Abraham Lincoln statue unveiled during weekend ceremony
9/14/2016, 2:33 p.m.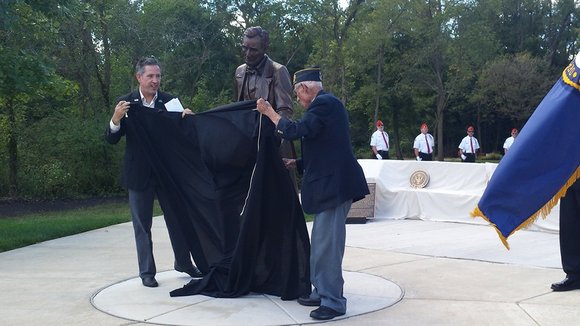 A statue of Abraham Lincoln was unveiled this weekend at the national cemetery in Elwood that bears his name.
The life-sized statue of the 16th President of the United States, will sit at the entrance to the Abraham Lincoln Cemetery on its memorial walkway.
The ceremony included members of the Illinois Buffalo Soldiers of District 11 American Legion.
The project required fund-raising efforts to secure the $110,000 needed to complete the statue and the installation.
Joliet artist Kathleen Farrell created the bronze sculpture which she said "is more realistic than many" around the state.
The artist used a 6 foot 4 high school basketball player as the model as well as a mold made of the former President's face that was made when he was still alive.
President Lincoln established the national cemetery system in 1862 during Civil War. Prior to that, soldiers were often buried at the site where they perished in battle or at a military post.
The Abraham Lincoln statue serves as a focal point of a larger project involving a $22 million dollar expansion and renovation of the Elwood cemetery.