Pets: Adopting and Training a Service Dog
9/14/2016, 3:29 p.m.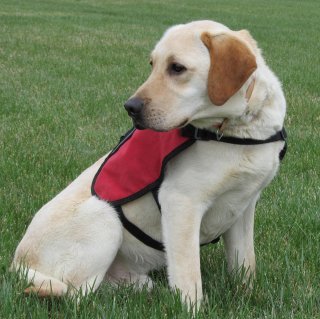 Dogs can be incredibly smart and comforting animals. While most dog owners depend on their dog for emotional support and companionship, others look to dogs for assistance with disabilities, such as blindness or hearing loss.
Service dogs are specially trained to assist with many types of disabilities. As defined by the American Disabilities Act, a service dog is any dog assisting a person with a disability and the animal must be trained to do a task for the person. Because service dogs are so highly trained, they are allowed to go in many public places, such as restaurants, busses, bathrooms, and even on school and university campuses.
On the other hand, therapy dogs are not considered a service dog by law—nonetheless they still help people. Therapy dogs are trained to provide comfort and affection to people and are often used in caring facilities such as hospitals and nursing homes. While therapy dogs certainly require training to behave in public, service dogs are known for their incredible obedience and multi-step training programs that help shape them into the perfect assistance dog.
"Service dogs have to learn that even though a person who is blind told them to go through a door, they should not go if there is a hazard that could injure their owner," said Dr. Alice Blue-McLendon, clinical assistant professor and faculty advisor for the Aggie Guide Dogs and Service Dogs (AGS) student group of Veterinary Medicine & Biomedical Sciences. "The dog disobeying the owner to prevent injury is called 'intelligent disobedience.' If a blind person tells the dog to step off the curb because they want to cross the street, but the dog sees a car coming, the dog has to refuse to go. This high-level training makes service dogs unique from other dogs, including therapy dogs."
How does the process for training a service dog begin? According to Blue-McLendon, phase one training begins in puppyhood. Puppies learn basic obedience in phase one training and are gradually exposed to working in public places. Once the puppy completes phase one training, the puppy is sent to complete phase two training at a professional service dog organization. Overall, training lasts until the dog is at least two years old.
The puppies are trained using positive reinforcement through treats or clickers. Students in the AGS program at Texas A&M raise puppies that are typically Labrador retrievers or Labradoodles—a mixed breed of Labrador retriever and poodle. These breeds have been the most successful in the training programs to become a service dog.
"We usually raise the puppies until they're about 18 months of age," Blue-McLendon said. "The students house train, potty train, and socialize the puppies, and then we donate them to organizations, such as Guide Dogs for the Blind, that provide phase two training for them to become full-fledged service dogs."
In phase two training, the dogs are evaluated for performance and obedience to determine which specific disabilities they are most suited to help with. For instance, a tall and obedient dog may be trained to reach objects off a high counter for people in wheelchairs. However, not every dog that completes phase one training graduates from phase two training. Some dogs that do not pass phase two training are repurposed as therapy dogs or are kept as well-trained pets.