Forest Preserve District remembers Rosie the bloodhound
9/16/2016, midnight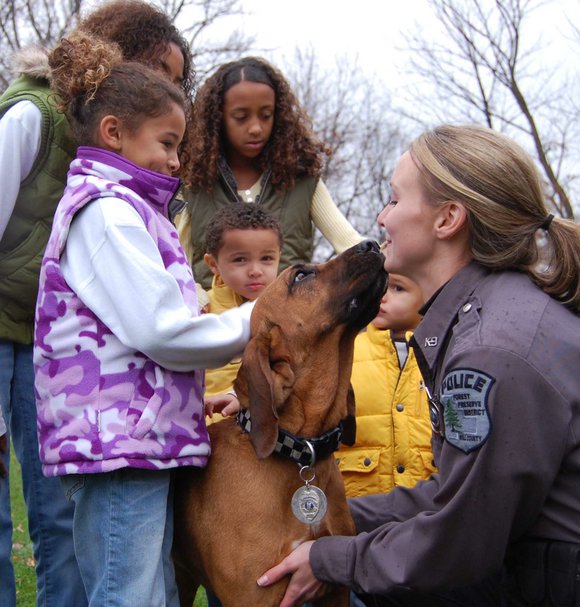 Rosie, the Forest Preserve District's former search and rescue bloodhound, passed away over the Labor Day weekend. The 12-year-old canine was diagnosed with arthritis in early 2012, and was retired later that year after the illness prevented her from being able to take on the rigors required for search and rescue operations.
After an incident in 2005 that required a tracking dog, District officials decided to acquire a K-9 to patrol the Forest Preserve's thousands of acres. Forest Preserve Officer (now Chief of Police) Tracy Chapman volunteered to become Rosie's handler. She spent two weeks training with the then 2-year-old bloodhound at Canines for Kids in North Carolina, a non-profit that trains search dogs and their handlers.
During the seven years Rosie was with the District, she successfully assisted several municipal police departments in locating missing persons and in criminal investigations. And she became a good will ambassador for the District, visiting schools and attending public events. Two annual fundraising events were held for the lovable bloodhound, and people came by the hundreds to support her.
Rosie became a member of Chapman's family, and she remained with them for the remainder of her life. She would have been 13 on September 21, 2016.
"Rosie was my partner, pet, friend, and family," Chapman said. "She will be greatly missed."
In 2013, Jullo, a German shepherd, became the District's new K-9 officer.