High school football: Joliet West travels to Romeoville
9/16/2016, 9:52 a.m.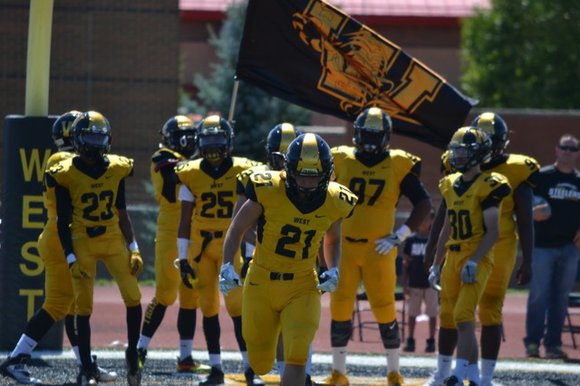 Joliet West (1-2) is coming off a close loss against Oswego, one of the final two undefeated teams left in the Southwest Prairie Conference, and its best defensive performance of the season so far. Romeoville (0-3) is coming off its worst loss yet, a 62-2 drubbing at the hands of Plainfield North.
The Tigers have faced both Oswego and Oswego East in its first three games of the season. But in its loss against Oswego, the Tigers allowed just one touchdown and took the ball away three times. The Spartans have had a rough start to the season but they'll be back at home facing a young and inexperienced offense in the Tigers. Still, Romeoville and their star running back and NIU commit Jordan Nettles will face a formidable defense.
This week's games:
Friday, September 16
Plainfield North (2-1) at Minooka (2-1) 7 p.m.
Plainfield East (2-1) at Oswego (3-0) 7 p.m.
Oswego East (3-0) at Plainfield South (2-1) 7 p.m.
Joliet West (1-2) at Romeoville (0-3) 7 p.m.
Lincoln-Way East (2-1) at Bolingbrook (2-1) 7 p.m.
Notre Dame (2-1) at Joliet Catholic (0-3) 7:30 p.m.
Lockport (3-0) at Homewood Flossmoor (3-0) 7:30 p.m.
Saturday, September 17
Plainfield Central (0-3) at Joliet Central (0-3) 1 p.m.
Updated Southwest Prairie Conference standings:
School/Record
Oswego East (3-0)
Oswego (3-0)
Minooka (2-1)
Plainfield East (2-1)
Plainfield North (2-1)
Plainfield South (2-1)
Joliet West (1-2)
Joliet Central (0-3)
Plainfield Central (0-3)
Romeoville (0-3)
Photo: Joliet West linebacker Andrew Smith (21) being introduced before the Tigers' Week 2 game against Plainfield South on Sept. 3. (by Alex Ortiz)