Joliet West wins at Romeoville
9/19/2016, 1:28 p.m.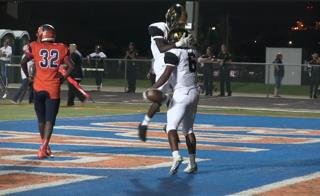 In a game that started out dominantly for Joliet West (2-2), Romeoville (0-4) was able to make it competitive at home on its Homecoming night. After allowing three touchdowns early, the Spartans were able to make it a game but ultimately fell short 21-16.
Behind running back and Northern Illinois commit Jordan Nettles, Romeoville was able to penetrate the Joliet West defense, which had held still-undefeated Oswego (4-0) to a single touchdown last week.
Early on, the Tigers were able to move up and down the field with their own running game paced by the quickness of Ezekiel Tullock and power of Kendrick Roach. Still, Joliet West's offense was unable to put up as many points as they could have. Quarterback Jaxon Aubry threw a redzone interception to Romeoville's Ricky McKinney.
"I don't think it was the youth of the offense this time," Joliet West Head Coach Jason Aubry said. "I just don't think we executed."
Still, after an impressive showing against Oswego and a win against Romeoville to get back to .500, the Tigers are in good position for postseason contention four weeks into the season.
On the other side, Romeoville has had a rough start to the season, but Friday's showing was the team's best, especially after Week 3's 62-2 drubbing at the hands of Plainfield North. The team's 16 points were the most it has put up through the first four games of 2016.
"I don't really believe in moral victories," said Romeoville Head Coach Oliver Gibson. "We have to convince ourselves that we can put together four quarters without digging ourselves a hole and that's what we did."
Up next, Joliet West will host Plainfield East, which started 2-0 but is now 2-2. Romeoville will welcome Oswego.
This week's local results:
Oswego 40, Plainfield South 19
Joliet West 21, Romeoville 16
Oswego 27, Plainfield East 17
Plainfield North 61, Minooka 22
Joliet Central 38, Plainfield Central 35
Homewood Flossmoor 53, Lockport 24
Lincoln-Way East 41, Bolingbrook 23
Photo: Joliet West running back Ezekiel Tullock (6) celebrates a touchdown against Romeoville in the Tigers' 21-16 Homecoming spoiler win against the Spartans. (by Alex Ortiz)