Saint Francis football wins first game of 2016
Alex Ortiz | 9/19/2016, 11:57 a.m.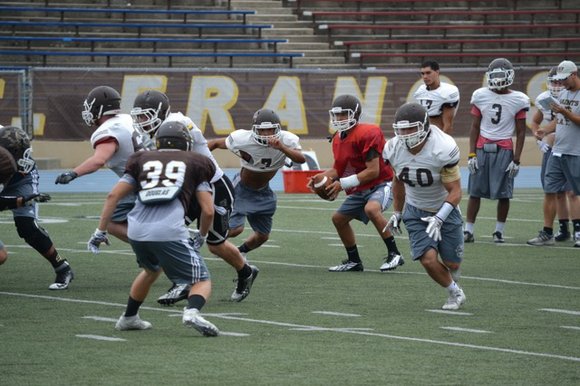 The Fighting Saints (1-2) won their first game of the season against Missouri Baptist 38-14 on Saturday on its last of a three-game road trip to start 2016.
Sophomore wide receiver Tyrell Mitchell scored two of the Saints' five touchdowns. Junior quarterback Don Butkus went 22 of 31 passing for 210 yards and led the Saints with 77 rushing yards on eight carries.
College women's soccer: Saint Francis beats Calumet; Lewis defeats Drury
The Saints won 6-0 over Calumet College of St. Joseph in the team's first Chicagoland Collegiate Athletic Conference game. Seniors Kayla Paeth and Alex Truhlar each scored twice.
Saint Francis broke its three-game winless streak and improved to 2-2-1 so far in 2016.
The Flyers' senior Meg Carmody and junior Mackenzie Fuller combined for eight points as the Flyers topped Drury University 4-1 in a GLVC match-up. Carmody recorded two goals. Fuller got a goal and two assists. Senior forward Jessica Chavez scored the team's fourth goal.
Lewis outshot Drury 22-7 and was also ahead on shots on goal 15-6. The Flyers improved to 3-2-1 overall and 1-1-1 in the GLVC with the victory.
College volleyball: No. 15 Lewis tops Drury in five sets
The Flyers were able to get past Drury in five sets with a 25-12, 25-14, 18-25, 20-25, 15-6 GLVC win last Saturday. Junior middle hitter Aly Schneider recorded a match-high 19 kills and hit .457 (19-3-35) and junior Maddie Seliga earned a double-double of 13 kills and 16 digs.
With the win, Lewis is now 7-3 overall and 2-0 in the GLVC. Lewis will return home next Friday (Sept. 23) as they welcome UMSL for a 7 p.m. match.
College men's soccer: Lewis loses on golden goal; Calumet St. Joseph tops Saint Francis
The Lewis men's soccer team lost 1-0 on a header goal by Missouri S&T's Unnar Ulfarsson in the 107th minute on Sunday.
The Flyers and Miners both recorded 16 shots but Lewis was edged out 8-6 on shots on goal. Lewis is now 1-5 overall and 0-4 in conference matches.
Despite tying the match on two occasions, the Saint Francis men's soccer team fell short against Calumet College of St. Joseph 3-2 in the CCAC opener for both teams at Joliet Memorial Stadium.
Junior Nick Miller scored his first goal of the season in the 31st minute and junior Mohamed Rashid added another off of a free kick in the 55th.
Saint Francis is now 1-4 overall following its third straight loss.
Picture: Saint Francis junior quaterback Don Butkus (red jersey) attempts a handoff in practice. (by Alex Ortiz)