Topsy-Turvy Apple Pie
9/22/2016, 11 a.m.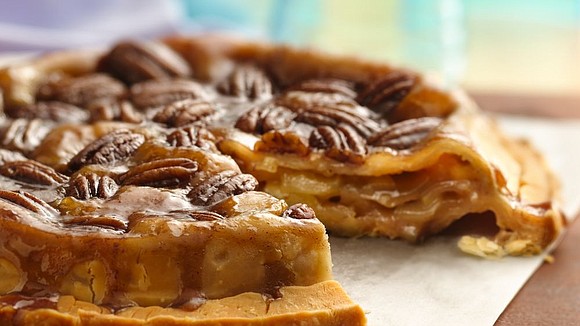 SERVINGS: 8
Ingredients
Glaze and Crust
¼ cup packed brown sugar
1 tablespoon butter, melted
1 tablespoon corn syrup
½ cup pecan halves
1 box refrigerated pie crusts, softened as directed on box
Filling
2/3 cup granulated sugar
2 tablespoons all-purpose flour
½ teaspoon ground cinnamon
4 cups thinly sliced, peeled apples (4 medium)
Topping
Whipped cream, if desired
Directions:
1
Heat oven to 425°F. In 9-inch glass pie plate, mix brown sugar, butter and corn syrup. Spread evenly in bottom of pie plate. Arrange pecans over mixture. Make pie crusts as directed on box for Two-Crust Pie, placing bottom crust over mixture in pan.
2
In small bowl, mix granulated sugar, flour and cinnamon. Arrange half of apple slices in crust-lined pie plate. Sprinkle with half of sugar mixture. Repeat with remaining apple slices and sugar mixture. Top with second crust; seal edge and flute. Cut slits in several places in top crust.
3
Place pie on sheet of foil on middle oven rack in oven; bake 8 minutes. Reduce oven temperature to 350°F; bake 35 to 45 minutes longer or until apples are tender and crust is golden brown. Immediately run knife around edge of pie to loosen. Place serving plate upside down over pie; turn serving plate and pie plate over. Remove pie plate. Serve warm or cool with whipped cream.