Wonderful Town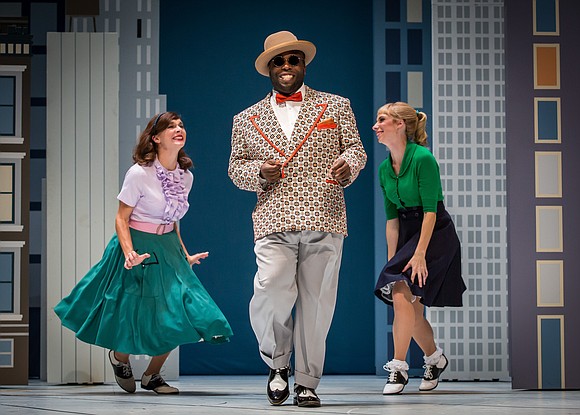 Originally, Wonderful Town had been scheduled to end Goodman Theatre's 2015-16 season. Then Goodman got War Paint, which closed last season and moved Wonderful Town to open this one. The buoyant, joy-filled production is a grand celebration to begin Robert Falls' 30th anniversary as Goodman's Artistic Director.
The story is based on Ruth McKenney's stories about her sister, Eileen – who, tragically, died before even the book was published – and the play, My Sister Eileen, by Joseph Fields and Jerome Chodorow. Turning the play into a musical was problematic until Betty Comden and Adolph Green got involved and brought along their friend, Leonard Bernstein, who provided a exuberant and musically sophisticated score. Wonderful Town bookends On the Town, another musical love letter to New York, the trio created a decade earlier.
Two sisters, Ruth (Bri Sudia) and Eileen (Lauren Molina) Sherwood, leave Ohio for New York City where they dream of "making it" as writer and singer, respectively. Their first day the meet Mr. Appopolous (Matt DeCaro) who convinced them to move into his rundown Greenwich Village building. Though awful looking to an outsider – I still remember my mother's horrified face when she saw my first Village apartment – it quickly became home. Like two sides of a coin blond, bubbly, guy magnet Eileen is the Yin to Ruth's industrious Yang.
The girls soon settle in and make a communal family including Wreck (Jordan Brown), who never realized school football potential, but looks great in short shorts; his line-with girlfriend, Helen (Kristin Villanueva); Frank Lippincott (Wade Elkins), one of Eileen's conquests; Robert Baker, the editor who loves Ruth (Karl Hamilton, a baritone so good one hardly noticed his mike malfunction); Speedy Valenti, who owns a club where Eileen sings (funny, fine-voiced James Earl Jones II), and the aforementioned Mr. Appopolous. Adventures abound. Even the blips – when Mrs. Wade (Amy J. Carle) comes to check out her daughter's living arrangement, or when Chick Clark (Steven Stafford) villainously sends Ruth on a bogus newspaper reporting trek – are minor and end happily.
Director Mary Zimmerman's production, updated from the 1930s to the 1950s, Is all about openness, optimism and possibilities. Most of the action takes place outside where Todd Rosenthal's set, based on a graphic illustration by Steven Duncan, echoes and enhances the mood. He uses a pastel palette. The city's buildings move into changing configurations that seem to dance as an integral part of a stellar ensemble of 44 singing actors, dancers and orchestra.

Zimmerman touches – skateboard crowd movers affixed with car cutouts; moveable clouds that come to meet Robert Baker's hand when he sings that he is so happy he can touch the clouds – abound. Ana Kuzmanic's costumes add to the Zimmerman mosaic: frilly, crinolined, pastels for Eileen and darker primary colors and simple lines for Ruth. Violet (Christina Hall), a hooker, gets lots of push ups, and Speedy Valenti is a superfly. Alex Sanchez's choreography – Ruth and the Brazilian Cadets doing a Conga or Eileen and the Policemen doing "Irish" – dazzles.