Spicy Orange Pork Chops
9/29/2016, noon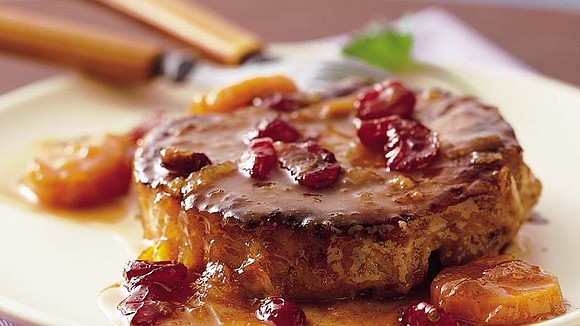 SERVINGS: 4
Ingredients
2/3 cup orange marmalade
2 tablespoons butter or margarine, melted
1/2 teaspoon ground cinnamon
½ teaspoon ground ginger
2 tablespoons dried cranberries
2 medium dark-orange sweet potatoes, peeled, cut into 1/2-inch slices
¾ cup Original Bisquick™ mix
¼ teaspoon ground red pepper (cayenne)
2 tablespoons soy sauce or water
4 boneless pork loin chops, 1/2 inch thick (1 lb)
Directions
1 Heat oven to 350°F. In medium bowl, mix marmalade, butter, cinnamon and ginger. Stir in cranberries and sweet potatoes; set aside.
2 In shallow dish, mix Bisquick mix and red pepper. In another shallow dish, place soy sauce. Dip pork into soy sauce, then coat with Bisquick mixture. Spray 10-inch skillet with cooking spray; heat over medium-high heat. Cook pork in skillet 6 to 8 minutes, turning once, until coating is brown.
3 Place pork in ungreased 13x9-inch (3-quart) glass baking dish. Arrange sweet potato mixture around pork. Bake 40 to 45 minutes or until sweet potatoes are tender and pork is no longer pink in center.