Concerned Will County residents march in Joliet 'Day of Action' rally
Alex Ortiz | 4/2/2017, 10:48 a.m.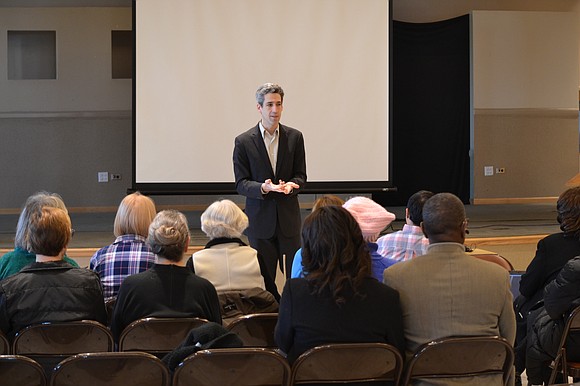 About 50 Will County residents gathered at Mt. Carmel Church this weekend for a Will County Day of Action. The event was sponsored by People United for Change and Our Revolution IL and was put on to inspire residents to get politically involved and vote.
Participants included a group of six women from a Romeoville senior community who consider themselves Democrats and were concerned about the outcome of the 2016 election. They brought signs showing their support for the Affordable Care Act (also known as Obamacare) and the Environmental Protection Agency, and one even wore a pink hat which has become a symbol of women's political power during the Women's March following President Trump 's inauguration.
"Many of us participated in the Women's March (in Chicago) and we wanted to keep that enthusiasm and that call to activism," Pat Zakavec said. "So we formed our little group in the community for whoever wanted to join us to talk about common concerns and how we can be proactive in our community."
While some in the group had experience in political activism going back to the Civil Rights Movement, others were relative novices to politics, but still wanted to do more after the election. They've been calling their local representatives, sending postcards, attending political events and doing their research on local candidates.
"We kind of feel outnumbered in our community with our political beliefs," said Cheryl Arevalo. "So we formed a support system and we are glad to meet other people we can talk to openly and honestly."
Part of the Day of Action meant getting people out to vote, not for any particular candidate, but just to be involved, but they did invite guest speakers, one of whom was State Senator Daniel Biss (D-Evanston), who is running for governor of Illinois in 2018.
"To me, this is a moment to build a movement," Biss said. "Anywhere in the state where I can see passionate activists like this, I'm eager to stand with them, eager to support them in any way that I can."
Biss spoke to the group about the need for unity especially on more progressive issues like immigration reform and taking care of the most vulnerable in society. He is a part of a group of growing Democratic candidates set to run against Governor Bruce Rauner next year. Chicago businessman Chirs Kennedy and Chicago City Alderman Ameya Pawar are also among the candidates who have officially announced they will run.
The opposition to Rauner and the lack of progress on a budget in Springfield was also a reason some participants like Rachel Hoblin got involved.
"I would like Illinois to lead the county, but we're leading in all the wrong things," said Hoblin. "And someone the other day asked me, 'Are you from Ill-annoyed?' And I am."