Shorewood Lions Club recognizes Troy Students of the Month
4/3/2017, 2:10 p.m.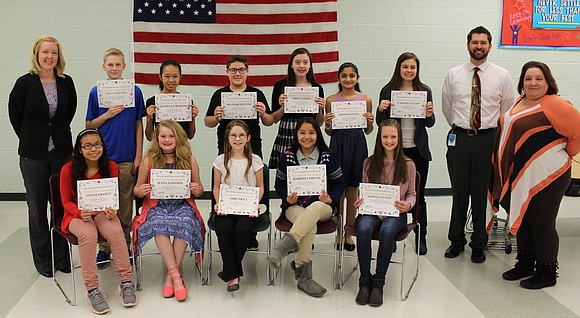 The Shorewood Lions Club recognized Troy Community School District 30-C February Students of the Month at the school district's March school board meeting.
The February Students of the Month are William B. Orenic Intermediate School 6th graders Jaylon Farmer, Abby Price, Isabella Gourley and Jenna Johnson.
Troy Middle School 7th graders are Marissa Casillas, Vivian Franco, Logan Brouwer and Dhwani Patel.
TMS 8th graders are William Stevens, Cadence Allen, Emily Vayda and Alayna Gumabong.
Lions Club President Noelle Viola said the students were selected on the basis of consistent effort, productive citizenship, positive attitude, participation in class and advisory team.
In addition to certificates from the Shorewood Lions Club, the students also received gifts from sponsors Family Video and Marco's Pizza.
The Shorewood Lions Club helps any needy person in Troy Township who has a sight or hearing problem get glasses, hearing aids and other related equipment, including seeing eye dogs. They will also help sight- or hearing-impaired children sign up for Camp Lions in the summer. The club meets at the Joliet Elks Lodge the 2nd Wednesdays of each month at 6:30 p.m. Visitors are welcome.
For more information on the Shorewood Lions Club, contact the club's president, Noelle Viola, at shorewoodlionsclub@gmail.com.