Claar with slim lead over Traynere after election night
Alex Ortiz | 4/5/2017, 12:25 a.m.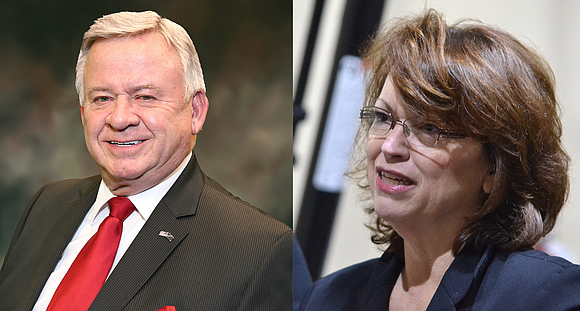 The Village of Bolingbrook saw something it hasn't in years on Tuesday: a close mayoral election. Mayor Roger Claar leads challenger Jackie Traynere 6,142 to 6,080 votes, a margin of one half of one percent by the end of election night. The result will become official once all mail-in, absentee and provisional votes are counted. The Will County Clerk's website says the votes will be official by Tuesday, April 25.
"Negative campaigning works," Claar said in reaction to the close margin and what he viewed as negative campaigning from the Traynere camp.
Claar's party was held at the Bolingbrook Golf Club, the same venue where he hosted the Trump fundraiser which sparked the backlash and challenge in this election. While the mood was one of relief and satisfaction for the mayor's apparent win, the critiques of Traynere's campaign and the negative media coverage was still atop the minds of Claar and his supporters.
The atmosphere in the Traynere camp was somber but still determined with Traynere wanting not to concede before every vote was counted. The election won't be officially certified for two or three more weeks.
"As the expression goes, we put a thousand cracks in that glass ceiling," Traynere said referencing Hillary Clinton after her own defeat last year. "And that guy has to know what a tough race we gave him."
Down the ballot, Jaime Olson, who ran with Traynere on the Bolingbrook United ticket, holds a 6,028 to 6,004 lead over incumbent Carol Penning. The race for the three trustee positions was also close with Michael Lawler and Maria Zarate, who ran with Claar and the Bolingbrook First ticket, leading with 5,640 and 5,588 votes respectively. Bolingbrook United's Bob Jackiewicz appears to have placed himself in the third spot with 5,508.
One remarkable official result was the turnout in the village of about 75,000. The two candidates garnered 12,222 votes unofficially. That's up from just 3,180 votes for Claar in 2013, 5,503 in 2009, and 3,313 in 2005.
See all the results here.