Joliet School District 86 parents demand action on bullying
4/11/2017, midnight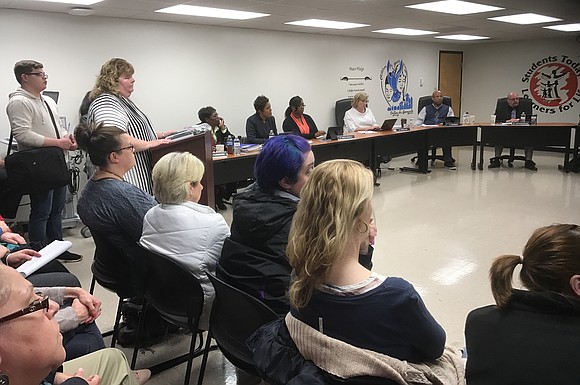 Joliet - The District 86 Board of School Inspectors held a meeting recently to address concerns parents have about bullying in the Joliet district.
Dozens of parents and community members attended the meeting at the JFK Administrative Center to learn more about how school leaders plan to address the problems. Some who spoke, said they were concerned about the lack of resolutions and that some of the victims were resorting to self-harm and thoughts of suicide.
The meeting included an address from Superintendent Theresa Rouse about her plans to combat the problem as well as an open public forum.
Sanina Campbell, parent and former employee of the district, told the board about her daughter's experience with bullying over the last two years.
"I think the schools need to take a more active role," Campbell said.
"I think they do the best they can with what they have, but I think sometimes a blind eye is turned."
Campbell says she has been actively trying to come to a solution with Washington Junior High School where her daughter is an eighth grader. Even as a former district employee who is familiar with the district's policies on bullying and guidelines she still has seen little action.
That was until a recent incident when she learned of a district "bullying form" that can be filed to report an incident and start the action plan process. Campbell and many other parents at the meeting didn't know of the form's existence.
The district's website hosts resources for parents including a "bullying, intimidation and harassment" page which includes the board policy on bullying, cyberbully hotlines, and an anonymous bullying report form. That form, however, is different from the one that Campbell completed she said.
Parent Brenda Garcia said that her sons, who previously attended Gompers Junior High School, were bullied so much that she had to drive them to school despite living only two blocks away. If she didn't, she said, they had to run from the school just to avoid the bullies. One student, she said, pulled a gun on one of her sons and she found an apparent suicide note in one of their rooms.
"I'm not here to blame anyone or point fingers," Garcia told the board in tears. "I just kind of need that extra support from the teachers, from the school."
The board did not have a response following public comments.