Joliet Junior College unveils new downtown culinary arts building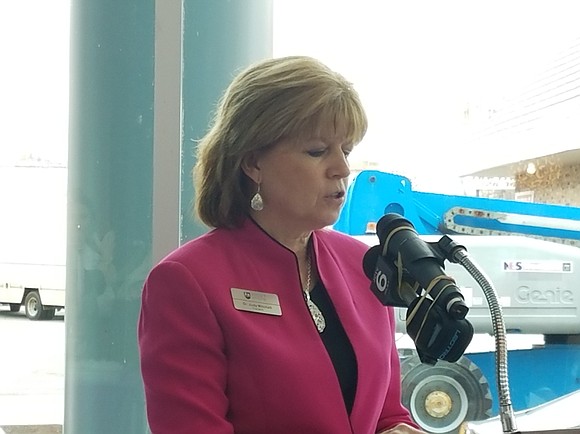 Joliet Junior College this week unveiled its new, culinary arts facility in the college's downtown Joliet renaissance center, 235 N. Chicago St.
The college uses the space to give culinary arts and hotel, restaurant and food service management students hands-on experience in their fields of study.
The culinary program takes up 5 of 6 floors at the 96,000 square foot downtown space and students and faculty will operate two restaurants there. Both Thrive and Saveur will be open to the public and will have limited hours through the end of the semester in May after which they will re-open in the fall with expanded hours of operation.
The college's culinary arts program will also be hosting a Wandering Feast at the campus on April 21. The event will take place from 6 p.m. to 9 p.m. and tickets are $65 per person.
The event will feature five floors "samplings of bite-sized foods prepared by JJC student chefs".
Themes for each floor will include: "A World of Barbeque," "American Regional Cuisine," "Charcuterie and Smokehouse," "French Pastries" and "Chocolates and Candies."
"Guests will also be able to sample from our new restaurants: Saveur and Thrive, all while sipping fine wines and local craft beers from Pollyanna Brewing in Lemont and Brickstone Brewery in Bourbonnais," said JJC Culinary Arts Department Chair Mike McGreal.
The event replaces the culinary department's annual Spring Gala event said McGreal.
"This facility is one of a kind and provides our students with the most technologically advanced equipment available in the restaurant industry today," he said.
Proceeds from the event will benefit the JJC Culinary Arts Department and provide scholarships for students and professional development for faculty.
To get tickets and register for the Wandering Feast call Dori Miller at 815-280-1255 or by email at domiller@jjc.edu.
The campus' restaurant Thrive is open from 11 a.m. to 12:45 p.m. Tuesdays and 6 to 8 p.m. Fridays until May 14. Reservations can be made by calling 815-280-1201. Saveur is open from 11 a.m. to 12:45 p.m. Tuesdays and Thursdays. For reservations call 815-280-1200. brock@thetimesweekly.com