Austerity Wines: Exceptional California wines for under $20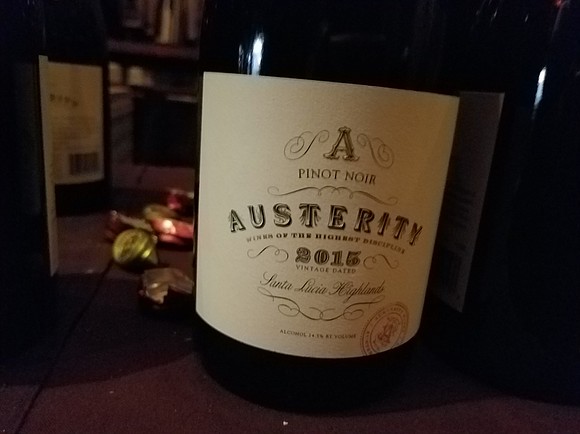 Austerity Wines of California is partnering with FeedFeed, a unique online community that connects home cooks, chefs and wine and food bloggers reflecting the latest kitchen trends, to host and series of Chef and Winemaking dinners in Chicago, New York and Los Angeles. The dinners all featured high-quality, locally sourced ingredients prepared by innovative local chefs, all paired with Austerity Chardonnay, Pinot Noir and Cabernet, all priced from $13.99 to $16.97 at you local wine shop.
The Chicago edition of the FeedFeed/Austerity Wine Dinner featured Chef Joanna Stachon of Ada St. 1664 American Bistro in Chicago. A native of Chicago's South Side, Chef Stachon cut her culinary teeth as a chef at Chicago's Greek diners and as a butcher at Artisanal and Publican Quality Meats following graduation from the culinary school at the Illinois Institute of Art. She joined the Ada St. team immediately after its opening in March 2012 and rose from Sous Chef to Executive Chef after two years under Executive Chef Zoe Schor.
Austerity Winemaker Steven Decosta led the discussion during a dinner featuring Italian Burrata with mint and walnut pesto, Spring Caesar Salad, Diver Scallops with minted peas and charred scallion puree, all paired with Austerity Chardonnay ($16.97); a Second Course of Denver Lamb Ribs with cardamom and orange glaze, Forbidden Black Rice with Grilled Quail and Green Beans with spicy chermoula and preserved lemon, all paired with Austerity Pinot Noir ($13.99); a Third Course of Parisienne Gnocchi with fav beans, lemon, shallots and parmigiana and Prime Strip Loin with brown butter and balsamic reduction, all paired with Austerity Pinot Noir ($13.99). The Grand Finale was Chocolate Granache to be spread over toasted baguette, brushed with Tascan olive oil and sea salt, paired with Austerity Cabernet.
The wine and food pairings were perfectly matched. Winemaker Steven Decosta explained that each of the wines were made with the idea creating well-balanced wines that reflected the terroir of their unique growing regions, while preserving the fruit characteristics of the wine without going overboard with oak aging or malolactic fermentation. The results of his winemaking philosophy were admirable.
The Chardonnay for example, is brimming with flavors of golden apples, marshmallows, and a hint of creme brûlée'. Stainless steel fermentation; 6 months barrel aging in 100% American oak, guarantee the vitality and complexity of the wine.