In Our Own Backyard: Having a clean environment should not be a fight
Kay Bolden | 4/13/2017, midnight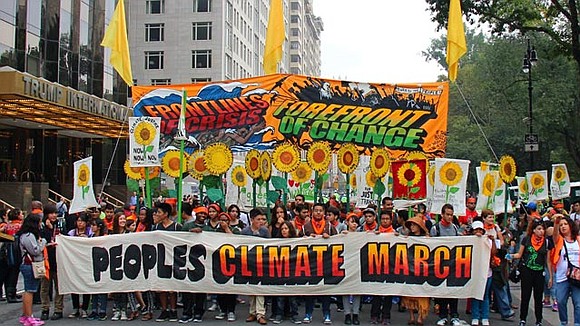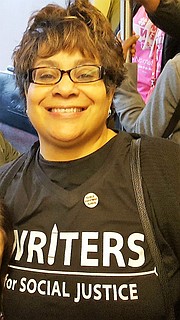 In Our Own Backyard is a new weekly column in The Times Weekly that will cover environmental justice and climate change, and how these issues impact our families every day. If you think oil spills, contaminated soil and toxic water pipes don't really affect you – we want you to think again. It's happening right here, right now, in our own backyard.
When the Trump administration took office on January 20, 2017, environmental advocates took aim. The Peoples Climate Movement (as well as other groups) has pushed back against White House efforts to dismantle the Environmental Protection Agency, and is working to build a grassroots coalition that links climate change with racial and economic justice.
Since taking office, the president has scaled back or eliminated professional staff positions in the EPA; filled the agency with climate change deniers; and issued executive orders rolling back environmental protections on clean air and water. The appointment of former Oklahoma attorney general Scott Pruitt to head the department is the most telling; Mr. Pruitt spent most of his career battling the EPA's regulations, and he personally believes the agency should be stripped of its authority.
What does this mean for our families and our neighborhoods?
It means we are at risk. It means we can no longer ignore threats to our environment, and tell ourselves that it doesn't affect us, or that there's nothing we can do about it anyway.
Here's why:
• Low-income communities and communities of color are disproportionately impacted by environmental crises. We are the first ones hit and the last ones informed when our soil or water is contaminated, or when pesticides or manufacturing waste in our neighborhoods have breached safety levels. We often feel both politically and economically powerless to demand answers or to take action.
According to Kari Fulton of the advocacy group Empower DC, "A rollback on environmental regulations hits our communities first and worst."
• We have to eat. Our ability to grow food is dependent on clean soil, clean water and clean air. Access to healthy food is not just a matter of nutrition – it's a matter of human rights.
• We can't keep our children healthy with chemically altered food, water from toxic pipes, and letting them play in polluted lots. In fact, if we don't demand clean food, clean water and clean air, we can look forward to increases in public health crises at all levels, from asthma to cancer.
Gretchen Dahlkemper, National Field Director for Moms Clean Air Force, says the destruction of the Clean Power Plan and EPA regulations "will harm real lives and impose an incalculable cost on our health, our economy and our moral leadership in the world."
The People's Climate Movement is mobilizing for a national March for Climate, Jobs and Justice on April 29 to demand environmental protections for our communities. The Times Weekly will be reporting and tweeting live from Washington, DC. For more information about the march, visit https://peoplesclimate.org.
Next week: No Grocery Stores, No Food, No Power: Why the East Side Food Desert is an Environmental Justice Issue
---
Kay Bolden is an author, blogger, youth advocate, community activist and urban farmer on Joliet's southeast side. She'd love to hear your thoughts on sustainable living, economic justice, and how we can all live together on the only planet we've got. Follow her on Twitter @KayBolden or drop her a line at Kay@KayBolden.com