Shorewood mayor accused of pumping village gas for personal vehicle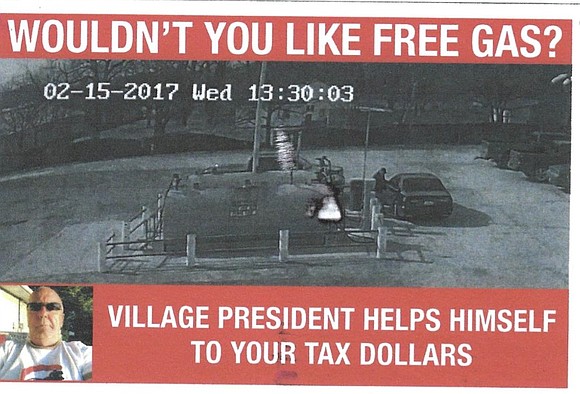 Shorewood resident Jim Lynch was disturbed by a mailer he received this week that allegedly shows Mayor Rick Chapman gassing up his personal vehicle at a village-owned gas pump.
Lynch told the board on Tuesday night that he was hoping to see the mayor and his "long-time friend" to get some clarification on the issue.
"I'm here on a kind of a sad mission," Lynch told the board.
Lynch said he was looking for answers he said in the wake of seeing the mailer that shows a security camera still of a figure pumping gas that's dated February 15 with the title "Wouldn't you like free gas?" and "Village president helps himself to your tax dollars."
"The clear implication is that that's something that he shouldn't have been doing," Lynch told the board.
"That distresses me greatly if that is in fact the case."
The mayor was out of town this week and would be back in time for the next village board meeting on April 25.
Trustee Dan Anderson said that "we're aware of it" and "we are looking in to it."
Anderson said that the village was in the process of reviewing some records and that the village's attorney and possibly the village auditors would look in to the matter.
"We're going to be reviewing our policies on board purchases and what's expected," said Anderson conceding that "we don't have a very good answer but this is what we're doing."
"Hopefully in a couple of weeks we'll have a better answer," said Anderson.
Chapman just won a fifth term as the village's president by a thin margin of 46 votes over trustee Barbara "Cookie" Kirkland. Following a count of mail-in and provisional ballots, the results, and Chapman's re-election will be certified on April 25 the same night the mayor said he will address the gas use issue at the village's next board meeting.
Chapman did not return calls for comment.