Savory Tomato Cobbler
4/18/2017, 11 a.m.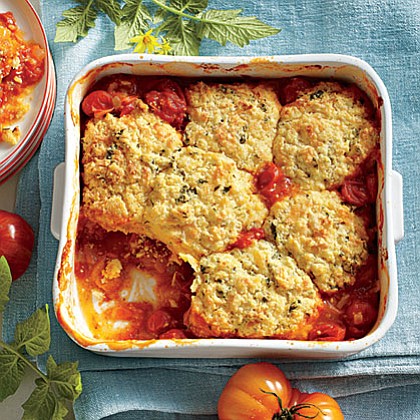 SERVINGS: 6-8
Ingredients
1 medium-size sweet onion, chopped
1 tablespoon olive oil
1 large tomato, chopped
3 garlic cloves, minced
3 pounds assorted small tomatoes, divided
1 tablespoon Champagne vinegar or white wine vinegar
1 tablespoon cornstarch
1 teaspoon kosher salt
1 teaspoon freshly ground black pepper
1 teaspoon fresh thyme leaves
1 1/2 cups self-rising soft-wheat flour (such as White Lily)
1/2 cup stone-ground yellow cornmeal
1/2 teaspoon baking powder
1/2 cup cold butter, cut into 1/4-inch-thick pieces
3/4 cup (6 oz.) freshly shredded Jarlsberg cheese
1/4 cup chopped fresh basil
2 tablespoons chopped fresh chives
1 1/4 cups buttermilk
DIRECTIONS:
Preheat oven to 375°. Sauté onion in hot oil in a large skillet over medium-high heat 5 to 6 minutes or until tender. Add chopped tomato, garlic, and 1 1/2 cups small tomatoes, and sauté 10 minutes or until tomatoes are softened. Remove from heat, and stir in vinegar and next 4 ingredients.

Place remaining small tomatoes in a 13- x 9-inch baking dish. Spoon onion mixture over tomatoes, and gently toss to coat. Bake at 375° for 10 minutes.

Meanwhile, stir together flour and next 2 ingredients in a large bowl. Cut butter into flour with a pastry blender until mixture resembles small peas; cover and chill 10 minutes. Stir cheese and next 2 ingredients into cold flour mixture. Add buttermilk, stirring just until dry ingredients are moistened. Dollop mixture by 1/2 cupfuls onto tomato mixture. (Do not spread.)

Bake at 375° for 30 to 35 minutes or until golden brown. Cool on a wire rack 30 minutes before serving.