Promenade festivities
4/19/2017, 3:22 p.m.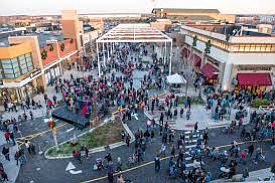 The Promenade Bolingbrook is celebrating its 10th anniversary with a three-day extravaganza from Thursday, April 27 through Saturday, April 29. The days include a block party, dunk tank and fantastic food and drink for the whole family. Kid-friendly activities include a balloon twister, a face painter and more. 10th anniversary glasses from Gordon Biersch will be available for purchase, and
come with a free refill. For all three days, the first 50 adults in line at the various events receive goodie bags.
DAY 1: Thursday, April 27, 5 p.m. - 10 p.m.
Block Party on The Row, hosted by Gordon Biersch
DAY 2: Friday, April 28, 5 p.m. - 9 p.m.
Trivia Night Test your trivia knowledge at The Row starting at 6:30 p.m. Teams must consist of no more than six people.
DAY 3: Saturday, April 29, Noon - 5 p.m. Family Day An afternoon of face painting, balloon artists, magic shows, and giant family games. Food and beverages from Gordon Biersch will be available for purchase.
For more details, visit The Promenade Bolingbrook's events page
shoppingpromenade.com.