Travelling heroin awareness trailer debuts ahead of HERO summit
4/19/2017, 10:46 a.m.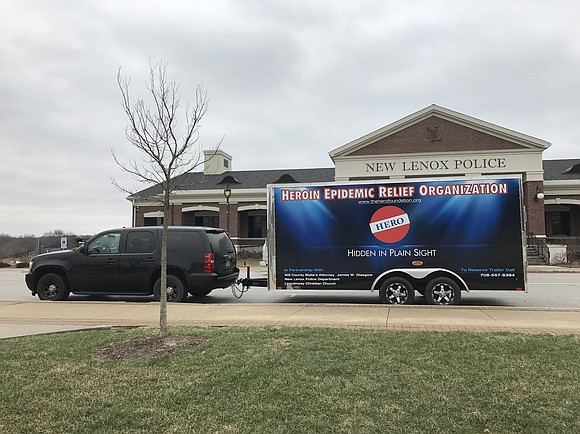 The Heroin Epidemic Relief Organization (HERO) is hitting the road with Will County State's Attorney James Glasgow, the New Lenox Police Department, and Lincolnway Christian Church with a traveling educational program that will teach parents to spot signs their teens are using heroin or other illegal substances.
The team has joined together to fund "Hidden In Plain Sight," which is a trailer containing an 8-foot by 16-foot model bedroom that shows parents dozens of places where a teenager might hide heroin or other dangerous narcotics. The partners will make the trailer available at community events throughout the region in their continuing efforts to educate the public about the heroin/opioid epidemic that claimed 96 lives in Will County in 2016.

The overall goal is to teach parents to spot the signs of heroin/opioid use or the use of alcohol early so they can intervene and save their children's lives, said Brian Kirk, a HERO cofounder. Kirk's son, Matt, died of a heroin overdose in 2009.
"HERO is working through this partnership and this program to alert parents to signs that their children might be secretly struggling with a dangerous, life-threatening addiction," Kirk said. "Many times these clues and warning signs are hidden in plain sight. The common items you see every day in your teen's bedroom might be hiding his or her addiction."
State's Attorney Glasgow has been aggressively prosecuting drug dealers for decades and has worked closely over the years with prevention and treatment professionals to discourage young people from using drugs or to help them break their addictions.
"The 'Hidden In Plain Sight" trailer is another educational tool we will make widely available throughout our community so that parents know where to look for signs of addiction," the State's Attorney said.
"We can't prosecute our way out of the heroin epidemic."
HERO's partners each contributed $2,500 to purchase and outfit the trailer as a traveling model bedroom. State's Attorney Glasgow and the New Lenox Police Department both contributed money they seized from criminals who were engaged in the sale of illegal narcotics in Will County.
The "Hidden In Plain Sight" trailer will travel to its first public event, the HERO HELPS Southwest Coalition Community Summit on the Heroin/Opioid Epidemicon Friday, April 21 at the Edward Hospital Athletic & Event Center in Romeoville.
For information on reserving the trailer for a community event or meeting, call (708)-557-8394 or go to HERO's Web page, www.theherofoundation.org. HERO's Facebook page is BeAHeroToo.