I-80 Bridge replacement nears for Old Plank Road Trail
thetimesweekly.com | 4/20/2017, midnight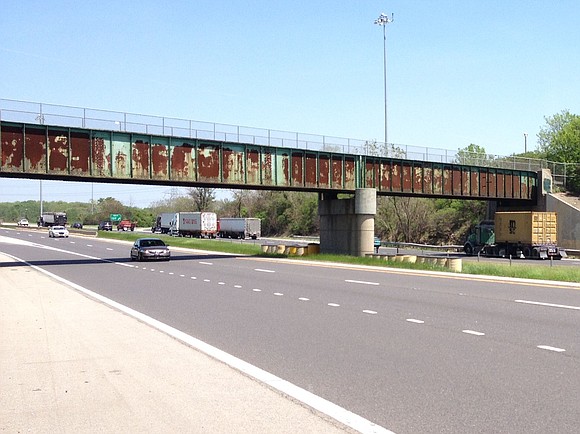 Old Plank Road Trail users will soon have a new bridge to ride, walk and run on as they pass over Interstate 80.
As part of its plan to rework the I-80/Route 30 interchange in New Lenox sometime in the future, the Illinois Department of Transportation (IDOT) is replacing the Old Plank Road Trail (OPRT) Bridge over the interstate. The new bridge will sit wider and higher on I-80 than the old one, requirements that were necessary for the planned interchange project.
The $1.4 million bridge project will create a more aesthetically pleasing trip for trail users, said Ralph Schultz, chief operating officer for the Forest Preserve District of Will County, which manages the 21-mile OPRT along with five other governmental agencies.
"The new bridge will be much lighter in appearance," he explained. "Trail users will have a unique opportunity to view motorists and commerce moving along one of America's great cross-country interstates, and highway travelers will be able to see the runners, walkers and cyclists who are enjoying the trail."
The new pedestrian bridge is a 227-foot bow truss structure. It will replace a 171-foot two-span through plate girder structure that was originally constructed in 1964 to carry the Joliet and Northern Indiana Railroad over the interstate. The bridge will be similar in appearance to the Orland Park Bikeway Bridge over Route 45/LaGrange Road.
The two I-80 bridge spans are scheduled to be delivered to the site during the week of April 17. Traffic on I-80 will be stopped for about 30 minutes as the bridge spans are erected.
The new structure will open around two weeks after its spans are installed just to the east of the old bridge. Trail users will not be affected by the project because the old bridge will not be removed until the new one is ready to open.
The popular OPRT stretches from Joliet east through New Lenox, Frankfort, Matteson and Park Forest. More information can be found at www.oprt.org.
Photo: This 53-year-old pedestrian bridge over Interstate 80 will be replaced soon as the Illinois Department of Transportation prepares for a future interchange improvement project at I-80 and Route 30 in New Lenox. The bridge carries Old Plank Road Trail pedestrians and bicyclists over the interstate.