2018 Volkswagen Tiguan
8/2/2017, 4:49 p.m.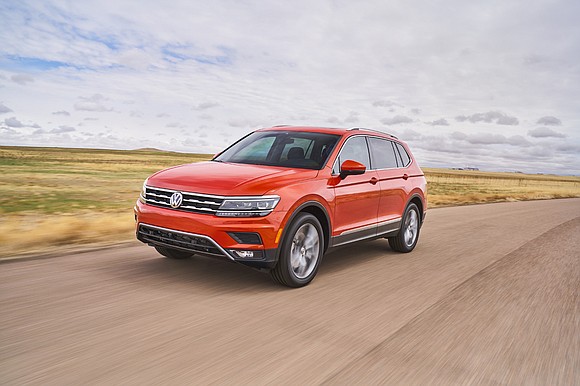 Right up front, Volkswagen's chief product spokesman told us that the company must regain the trust of consumers and rebuild the brand in the wake of its diesel engine cheating scandal. It was no muss, no fuss and no beating around the bush.
The same mantra can be applied to the 2018 Volkswagen Tiguan that he gave a presentation about. It was the second generation Tiguan and the improvements were straightforward and two really lift the bar for competitors.
Remember, the Tiguan goes to market as a compact SUV, yet it can be equipped with three rows of seats. The new version is 10.6 inches longer and has up to 58 percent more cargo space. Third row seating is standard on front-wheel-drive models and optional on the all-wheel-drive models.
The Tiguan has four trim lines: the S, the SE, the SEL and the SEL Premium. All can be equipped with all-wheel-drive or front-wheel-drive.
They upgraded or as VW said they updated the Tiguan's engine too. It is still a 2.0-liter directed injected turbocharged four-cylinder. But increased air flow and a lengthened combustion chamber without actually lengthening the combustion chamber lowered fuel consumption while increasing torque.
The engine made 184 horsepower and 221 pound-feet of torque at 1,600 rpm. It was mated to an eight-speed automatic transmission. Volkswagen said mileage for the front-wheel-drive Tiguan rose to 22 mpg in city driving, 27 mpg on the highway and 24 mpg in combined. For all-wheel-drive models, mileage rose to 21 mpg in the city, 27 mpg on the highway and 23 mpg combined.
A new modular read flexible platform, dubbed the MQB, or Modular Transverse Matrix, made the Tiguan wider and lower than the model it replaced. But the new model did not look squat. A row of Tiguan SUVs sitting in front of the hotel here looked contemporarily styled, they did not look like oversized sport utilities and their lines were clean.
All the trim lines were represented. Wheels ranged in size from 17 to 20 inches and come with different designs. Some models had panoramic roofs and some did not. There were front-wheel-drive and all-wheel-drive models. They all had LED daytime running lights and some had LED headlights.
On the all-wheel-drive models, front-wheel-drive is the default setting. But not only can torque be sent from front to back as needed, it can also be directed side-to-side.
There was a no-nonsense look to the Tiguan. Lines were straight, creases were sharp, the grilles were relatively slender and horizontal and there weren't any severe curves in the sheet metal. Much like the product presentation, the 2018 Volkswagen Tiguan was straight to the point. The vehicle looked good. And it was practical.
It had a 26-degree approach angel for all-wheel-drive models, a 23-degree departure angle and 7.9 inches of ground clearance; all indications of its off road capability. The roof rails could hold a maximum of 200 lbs. and it could tow up to 1,500 lbs.
We ended up in a front-wheel-drive 2018 Tiguan SE with a Panoramic Sunroof. It was grey inside and out. Pricing information said it was $30,280 but it was unclear whether that included the $900 freight charge.