Group wants to bring 'Route 66 Rock n' Roll' museum to Joliet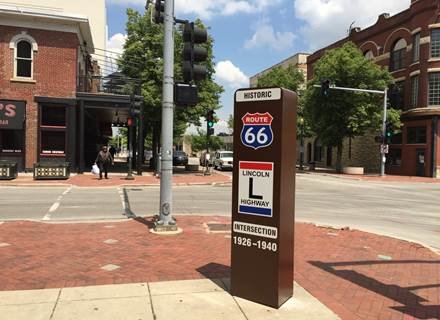 A group lead by a New Lenox business man would like to see Joliet join the ranks of music cities like Cleveland and Nashville attracting tourists with a planned Rock n' Roll museum on Route 66.
Ron Romero, who owns Stage Fright video productions in New Lenox, said he envisions a museum that will honor musicians and bands from all over the state of Illinois including Nat King Cole, Sam Cook, The Buckinghams, Cheap Crick, Richard Marx, REO Speedwagon, Disturbed and Kings X to name a few.
He said that the museum would include musicians from a "wide range of genres" and would be another draw for tourists coming to see sights along Route 66. The venture, he said, would also help benefit community music and theater programs through scholarships through its foundation.
Romero said that he was drawn to Joliet because of some of the new projects he's seen pop up over the years including the newly opened JJC campus downtown as well as some of the future plans including a new tech incubator.
"We want to become part of the synergy that's been happening here in downtown Joliet," he told the city council this week.
He said that he is "hoping to bring some tourism here" with a museum that would be the only one of its kind in the state.
The idea came to him after visiting the Rock n' Roll Hall of Fame in Cleveland and cities like Nashville. He said he also visited a museum in Rockford Illinois that curated a rock exhibit by that city's native son Rick Nielsen of Cheap Trick. While there, he saw a group of Japanese tourists who had come to Rockford specifically to see the exhibit.
He said in Nashville that the museums there sell a "back stage pass" that gets visitors into several museums around the city and also provides discounts for other places like restaurants, a concept he'd bring to his venture. His version would encourage visitors to also visit the Joliet Area Historical Museum, tour the Rialto Square Theater, or maybe catch a show at The Forge.
City Council member Jan Quillman who also serves as the liaison to the Historical Museum board said that she wasn't interested in seeing competition from another museum in the city's downtown.
"I don't know that we can sustain another museum," she said.
Romero said that it was always his plan for the new museum to work in concert with other museums in town as well as businesses. "We want to encourage them to go to the Joliet museum too," he said.
Quillman questioned Romero about his planned funding sources making it clear that there was no room in the city's budget to help his nascent operation.
"We have to protect our interests as well," she said. "If you do it all independently, I'm all for it."
Joliet Mayor Bob O'Dekirk said that the city council was supportive of the idea.
"If there's a way to make this work we'd like to see it happen," he said.