Nature Fest celebrates hummingbirds Aug. 19
8/9/2017, 9:48 a.m.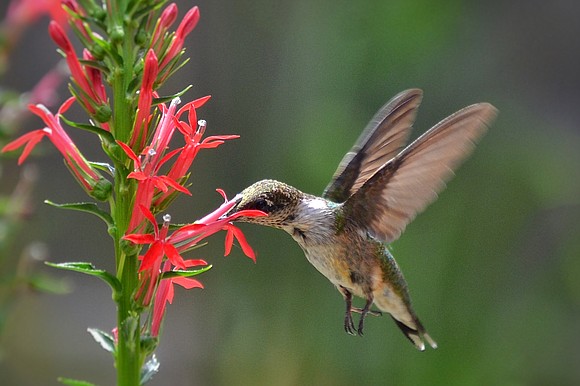 One of the Forest Preserve District of Will County's smallest creatures will be the star attraction during the "Hummingbird Fest and Nature Celebration" scheduled for Saturday, Aug. 19, in Crete Township.
The free fest will be held from 1-5 p.m. at Plum Creek Nature Center, 27064 S. Dutton Road. The fest will feature information about hummingbirds and other pollinators and the plants that attract them to gardens. And fest attendees can sign up to observe as the tiny birds are banded for scientific research purposes by the Thorn Creek Audubon Society and the Lincoln Land Association of Bird Banders. Hummingbirds can be adopted through the Lincoln Land group.
"In the past two years, the hummingbird banding program has been hugely successful," said Suzy Lyttle, an interpretive naturalist for the Forest Preserve. "So we decided to make it into a festival to celebrate how lucky we are to have these awesome birds right in our backyards."
In addition to the hummingbird banding, a wide variety of nature-themed activities will take place at the nature center and in the surrounding Goodenow Grove Nature Preserve. Lyttle said she hopes people take the time to have some good family fun during the fest.
"And I hope they fall in love with the nature center and the preserve, which is a hidden gem with a lot of outdoor opportunities."
Lyttle urges people to try a new recreational activity while they're at the fest, including slacklining or tree climbing. And fest-goers can learn all about native plants and how to support native pollinators.
The nature center's pollinator garden received a makeover this year through the "Conservation@Home" program, and it will be on display during the fest to help teach people what kind of plants attract hummingbirds, butterflies and bees.
Here is the fest lineup:
1-1:30 p.m. – Bee talk
1:30-2 p.m. – Ribbon cutting ceremony for the "Conservation@Home" garden
2-3 p.m. – Monarch talk
2:30-3:30 p.m. – "Backyard Birds" talk by artist Catherine Game, whose works of art will be on display at the nature center during the fest.
3-5 p.m. – Hummingbird banding
5 p.m. – Rain barrel drawing
Ongoing activities include: Face painting, slacklining, guided tree climbing, 1- or 3-mile trail bike rides, and birdhouse painting. Sign up for trail bike rides and tree climbing sessions during the event. The activities will be offered on a first-come, first-served basis. Bikes and helmets will be provided.
Musician Eric Lambert will perform folk and bluegrass music on his acoustic guitar from 1-3 p.m. Free snow cones will be available, and attendees can tie-dye shirts as well. Vendors will be selling garden-related items and locally crafted products, and food will be available for purchase.
Raffle tickets will be sold for a rain barrel drawing by the Friends of the Forest Preserve District, the Forest Preserve's non-profit fundraising foundation.
For information on other upcoming Forest Preserve District events and programs, visit ReconnectWithNature.org.
Photo: View hummingbirds up close and learn what to plant to attract them and other pollinators to your yard during the Forest Preserve District of Will County's "Hummingbird Fest and Nature Celebration" on Aug. 19 at Plum Creek Nature Center in Crete Township.