Will County Progressives join Sanders' national organization
8/9/2017, 8:57 a.m.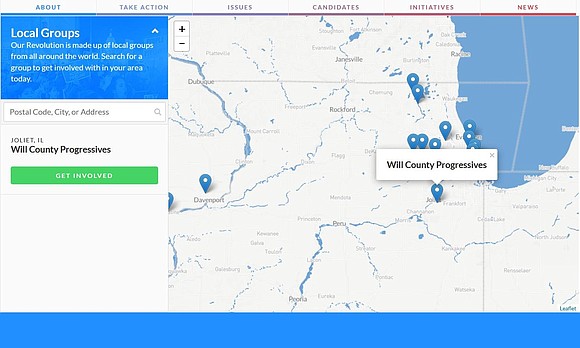 The Will County Progressives, a local grassroots organization that promotes progressive causes and candidates, has joined a national organization started by former 2016 Democratic Presidential Candidate Bernie Sanders.
Vice Chair Suzanna Ibarra said that the group had applied to be included in the national organization two or three times before being accepted. She said that the official announcement will come Thursday but that the organization is already listed on the Our Revolution website under local progressive groups in Illinois.
According to the Our Revolution website, the group aims to "reclaim democracy for the working people of our country" through "political revolution." The group's stated goals include the revitalization of American democracy, empowering progressive leaders and elevating political consciousness.
"It's huge among progressives," said Ibarra who is also a member of SAFE, which is petitioning for changes in legislation following the death of Joliet Toddler Semaj Crosby.
"Any small progressive group could only hope and pray to be partnered with that organization," she said.
She said that currently, the group is the only one listed as representing progressive interests in the Will County area.
"There's only one [group] that's south of I-80 and that's us," she said of the interactive map on the ourrevolution.com website.
Being included with the national organization will make it easier for the Will County Progressives to recruit members she said and will help in getting the message out regarding local events that they host throughout the year. She said that the group will be able to benefit from the larger group's communication infrastructure which she said could help triple their ranks in the coming year.