Check, credit or cash?
Madhu Mayer | 8/10/2017, midnight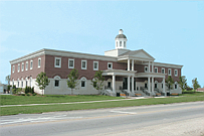 Cash and checks will soon no longer be the only acceptable methods of payment at Plainfield Village Hall.
Trustees Monday authorized accepting credit card payments to pay for services as Traci Pleckham, director of management services, indicated that residents have inquired about the change for years.
According to Pleckham, residents would prefer to complete transactions using credit or debit cards, both at the counter and online. An act was passed in the state in 1997 that allowed municipalities to collect payment for fines, fees and other charges via the credit card. But the act also requires any community considering the acceptance of credit card payments to hold a public hearing, which was held prior to Monday's board meeting.
Though no one from the public spoke up about the change, Mayor Michael Collins did ask whether the village would impose a fee for the use of credit cards.
While she said that has not been determined at this time, Pleckham said the issue would eventually be discussed with a contractor that will oversee the credit card payments. Initially, Pleckham said credit cards would be accepted for water bill payments. Once the program is in full swing, residents will able to charge fines, like traffic tickets, on their credit cards.