See solar eclipse at JJC
8/15/2017, 5 p.m.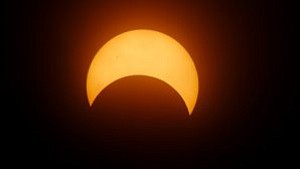 For the first time in 40 years, a solar eclipse will be visible from all of North America, and Joliet Junior College is offering students and area residents a chance to view this incredible event safely on Aug. 21 outside the Event Center on the Main Campus, 1215 Houbolt Road in Joliet.
Viewing of the sun will begin at 11:45 a.m. and end at 2:45 p.m. The eclipse starts at 11:53 a.m. and ends at 2.43 p.m., with the maximum eclipse occurring at 1:19 p.m., when the sun will appear as a very thin crescent as the moon covers 88.4 percent of it.
Visitors should plan to park in parking lots S2, S3 and S4.
In case of clouds or rain, the event will move inside the Event Center to watch a live feed of the total solar eclipse from NASA and the Exploratorium.
Many parts of the country will see a total solar eclipse, where the moon completely covers the sun. From Joliet, a partial solar eclipse will be visible, but it will nonetheless be impressive. The total solar eclipse will be visible in southern Illinois and central Missouri, among a few other states.
JJC's event, organized by Astronomy Professor Noella Dcruz, will include Sunspotter telescopes to safely view the sun's projected image, a Coronado telescope with a special in-built solar filter to safely see the sun and prominences (plumes of gas) at the edge of the sun and a solar spectroscope to safely see the sun's rainbow colors and dark absorption lines.
A limited number of handheld eclipse viewers will also be available. Please note that it is NEVER safe to look at the sun directly with the unaided eye or through a telescope or binoculars that do not have a reliable, properly fitted solar filter.
After this event, the Midwest will next see a partial solar eclipse on Oct. 14, 2023. From Joliet, 44.3 percent of the sun's disk will be covered by the moon. The next total solar eclipse in the Midwest will occur on April 8, 2024, though from Joliet a partial solar eclipse will be visible with 94.2 percent of the sun's disk covered by the moon.
For more information about this event, contact Noella Dcruz at ndcruz@jjc.edu.