D'Arcy Buick GMC Route 66 Classic
8/16/2017, noon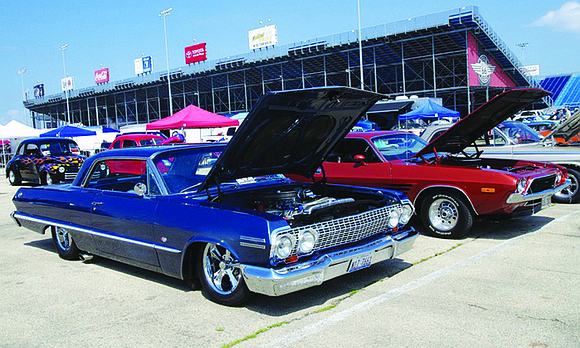 Joliet - Route 66 Raceway welcomes the return of the D'Arcy Buick GMC Route 66 Classic on August 19. While in its seventh year, the event has been reimagined and loaded with an level of content that will not only pay homage to early drag racing and hot rod culture but will present a quarter-mile blast down memory lane for any historical enthusiast. Fans will leave the world of 2017 when they enter the gates and propel into the era of poodle skirts, pin-up girls, sock hops and more.
On-Track Content
Unlike any other event at Route 66 Raceway, the D'Arcy Buick GMC Route 66 Classic will feature nostalgia match drag racing. This means that Funny Cars, Altereds, Pro Stocks, a jet car and over 200 other vehicles, all 1979 and older will have the chance to take a pass during the event.
Classic Car Cruise-In
Route 66 Raceway is calling all vintage vehicle owners to attend the D'Arcy Buick GMC Route 66 Classic and display as a part of the Classic Car Cruise-In. Attendees who pull up in any antique automobile, 1979 and older, can purchase entry for the event for only $20 between 11 a.m. and 2 p.m. with all passengers included.
First-Ever Miss Classic Pin-Up Contest
The crowd will also be privy to a Pin-Up Contest, featuring a flock of lovely ladies who rock the iconic look in hopes of becoming the first-ever "Miss Classic." Contestants will perform in front of a live audience and panel of judges in two sessions highlighting both their vintage-inspired fashions and a brief Q&A at 2:15 and 6:15 p.m. As part of the contest, the ladies will be challenged to enter the racers pits and solicit donations benefitting Pits for Patriots. The contestant that earns the most in donations will be crowned the Queen of Hearts.
Pits for Patriots rescues and trains pit bulls to be service dogs for veterans and first responders with physical and emotional needs. The organization works fervently to alter the negative public opinion surrounding the pit bull breed while simultaneously delivering veterans and first responders with the support they require. Pits for Patriots provides a trained animal to the recipient for no cost.
Vintage Faire Market
An outdoor market will offer a unique opportunity for attendees to immerse themselves in yesteryear. The Vintage Faire is a shopping extravaganza featuring a collection of talented vendors including artists, creators, antiques, primitive, salvage, industrial and more!
Cultural District
Wedged between the Classic Car Cruise-In and the Vintage Faire, event attendees will explore an area showcasing the artistic components of the hot rod culture. The Cultural District will feature live airbrushing and pinstriping from the Chicago Brushmasters. Pieces created throughout the day will be auctioned off at 1:45 and 5:30 p.m. to benefit Ronald McDonald House Charities. In addition, event attendees can get their hair and make-up done in vintage pin-up or greaser style for free by the students of Professional's Choice Hair Design Academy.