Wayne's Words: TIF: What happened to Small Business Development downtown?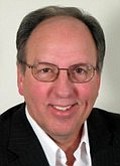 According to all published reports, the City of Joliet government is committed to redeveloping the City Center, more commonly known as "downtown Joliet." The idea of the downtown revitalization has been talked about, written about, planned for and studied ever since all the major retail establishments left City Center almost 40 years ago for the Louis Joliet Mall.
Since that time, downtown has become primarily a government campus. Most all tangible redevelopment has come about through government spending, totally reliant on taxpayer dollars. The city has redeveloped the train station (twice) and built a ballpark, Will County built a new jail and will soon be building a new $200 million courthouse, and the Joliet Junior College put up an eight-story campus building at a cost of $58 million.
The only other major development that has occurred downtown is Harrah's Casino and Hotel. Harrah's evolved into a permanent structure when the State of Illinois deemed land-based gaming was legal in Illinois when it replaced a riverboat gaming operation.
It could be argued that the casino revenue in Joliet was used in place of tax dollars but the reality is it just kept taxes artificially low at the time and we are paying the price for that now with increased property taxes, water rate increases and borrowing for sewer and water infrastructure projects that were mandated some 30 years ago.
When the new train station is completed and the new courthouse is built, tax dollars will be paying for it for many years to come. I don't buy the argument that the Feds are paying a portion or the State is picking up the bulk of the cost for some project. Why? There's an old saying of mine that I've used for years (maybe someone else first made it up, but I'm claiming it) "It doesn't matter which pocket of my pants you get the money from, it's still my pants."
Now, I'm not claiming all of these projects are not worthy of support (well, maybe some) but weren't all these stimulus-type projects supposed to jump-start private development?
That is what several downtown development studies, paid for with tax dollars, have stipulated. The latest study recommends more housing be developed for young urban types. That will encourage services such as restaurants and grocery stores to open shop downtown.
Of course, it has been projected, entertainment venues will also locate here. The Rialto Theatre, considered the crown jewel of the entertainment district will attract capacity crowds for the many shows that will open there. This will happen when people reside in the downtown area, according to the several studies that have been completed over the years.

The City Council and city administration are moving aggressively to help some of that development along. Tax Increment Finance Districts are being expanded to help provide funds for developments downtown. Three notable projects soon to occur or proposed to occur are on the table. One project for the not too distant future is a business incubator program that will be provided a $200,000 subsidy for a feasibility planning study that will identify whether or not Joliet is where they want to be. At least we don't pay if they don't locate here.