Eclipse is a 'once in lifetime experience' for Plainfield students
Indian Trails Middle School assistant principal Mason Luebbing thought his school was all set for some solar eclipse viewing fun this week.
He had 800 special solar eclipse viewing glasses, more than enough for the student population of 770, as well as any teachers and other staff who wanted to take in the once-in-a-lifetime event on Monday afternoon.
But a good majority of the glasses turned out not to be the authentic solar-certified type needed for safe viewing. That left the school with only about 100 pairs which meant that the cosmic display would not only be a science lesson but also one about time management and sharing.
Students and staff were cycling outside in groups with about 5 or 6 minutes each, trying to catch a glimpse of the event as overcast skies attempted to throw another obstacle in their way but it didn't seem to dull the sense of awe and excitement outside the school, 14732 S. Eastern Ave in Plainfield.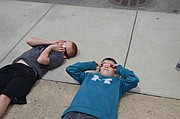 "It's a once in a life time event," said Luebbing as he oversaw the dispersal of the special heavy-duty tinted glasses that resembled a carboard pair of 3D spectacles.
"Seeing it brings science to life," he said.
Principal John Evans concurred, saying that he and his staff started talking in the summer about how they would incorporate the solar event in to their lessons on the first full week of school.
"We're glad that they are getting a chance to see it," said Evans who said that the event was just as exciting for his staff.
Teacher assistant Anne O'Leary was strapping a pair of the protective glasses over her eyes as just a sliver of the sun's corona was visible and the sky started to visibly darken.
"It's pretty cool," she said.
8th grader Max Babic said that it was an "awesome" event to witness and even liked the element of danger that viewing it posed noting the risk of eye damage if they didn't view it correctly.
"It's crazy and a little bit dangerous," he said as he and a group of friends took one last look before heading back to their classrooms.