Creamy Confetti Corn with Bacon
8/30/2017, 11 a.m.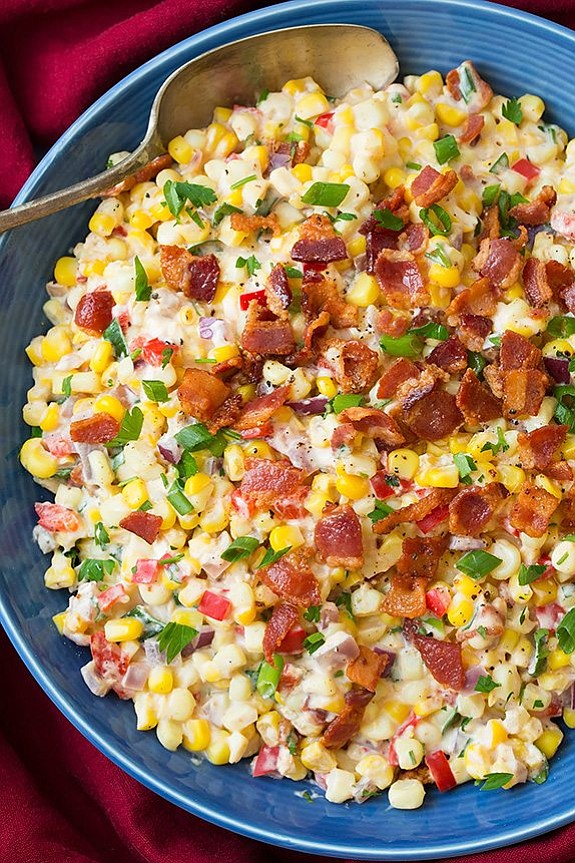 Servings: 6 - 7
Ingredients
4 1/2 cups fresh corn (from about 7 ears)
8 slices (8 oz) bacon, diced into small pieces
2/3 cup small chopped red bell pepper
1/2 cup chopped red onion
1/2 tsp each salt and freshly ground black pepper , or to taste
6 oz Neufchatel cheese , diced into cubes
1/3 cup milk , then more as needed
1/3 cup chopped green onions (optional)
2 Tbsp chopped fresh parsley
DIRECTIONS:
Cook bacon in a large skillet until crisp. Drain off rendered bacon fat while reserving 1 Tbsp in skillet. Transfer bacon to a plate lined with paper towels to drain. Heat skillet with drippings over medium-high heat. Add corn, bell pepper, red onion and season with salt and pepper. Saute until tender, about 6 minutes. Add in Neufchatel cheese and milk and cook and stir until the cheese has melted. Add in more milk 1 Tbsp at a time to thin as needed (I added about 3 Tbsp more). Stir in green onions, parsley and half the bacon. Transfer to a serving bowl and top with remaining bacon, serve warm.