Boys & Girls Club renovation a tribute to former board president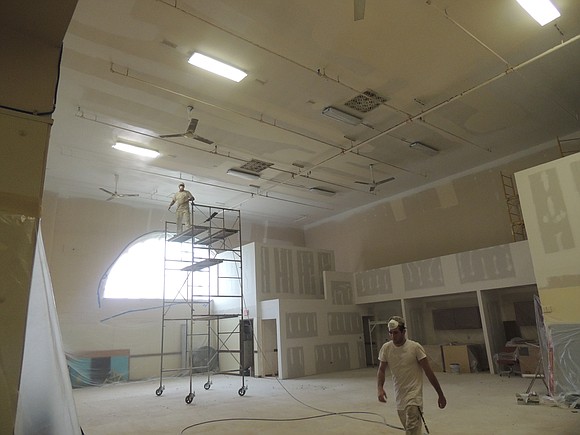 When it opens in early fall, the newly renovated third floor of the Boys & Girls Club in Joliet will be dedicated to a long-serving board president who passed away last year.
Executive Director Kahlil Diab said that the $80,000 makeover will be named the Mike Adler Memorial Auditorium in honor of the long-serving president who served on the non-profit agency's board and whose family ties to the center go back to its founding 60 years ago.

Adler's father, Joe, a former Boys & Girls Club president who is now in his 90s, founded local business Adler Roofing, and helped with the construction of the club's swimming pool.
He said that the new space will include a a portrait of the long-time volunteer as well as a placard in his honor as well.
"It's something we wanted to do for Mike," said Diab.
"He meant a lot to a lot of people."
He said that update will provide a clean and bright area for the over 1,000 kids who are registered at the center which serves just over 400 per day during the summer months.
The third floor of the building had been in need of a rehab for many years and has served for the past 6-7 years as a staging area for academic activities, tutoring, arts and crafts and as a make shift cafeteria where the center serves two meals a day during the summer months. He said that the building originally served as a synagogue in its previous life.
"It hadn't really been touched in about 30 years," he said noting that the third floor space originally served as the original building's place of worship.
"It's going to be a major improvement," said Diab who said upgrades will include new flooring, paint, bathroom upgrades, and a much needed repair to a large decorative window that had been cracked for decades. Other improvements include a new stair case as well as a balcony.
"You name it, it's being replaced," he said.
Once completed, he said that the new room will continue to serve as space for the club's academic support programs as well as cafeteria but can now serve as a multi-purpose room capable of hosting music programs and other public events with the addition of a new sound system.
He said that the club plans to host a public open house to unveil the new space in the fall, the first such public opening he said he can recall in his eight years working at the center the past 3 as its director.
Cost of the $80,000 renovation is being covered by funds from the center he said, but since announcing the Adler dedication at a gala in March, Diab said that generous donors have stepped forward to help defray the costs.
He said that much of the material and labor has been donated by Lowe's home improvement stores and their volunteer outreach program Heroes Project. He said that Lowe's stores from Orland Park, New Lenox, and Bolingbrook have contributed 15-20 volunteers per day during construction as well as volunteers from the Lowe's Orland Park flooring team.