Goodman Theatre 40th Anniversary " Carol" A Christmas Card to Chicago
Goodman Theatre celebrated its 40th Anniversary production of its beloved Charles Dickens' A Christmas Carol with an onstage finale featuring more than 40 cast alumni, including Bill Norris, who originated the part for t he Goodman in 1978. This year's production is, as in years past, a carefully crafted Christmas card to the City of Chicago and to the more than 1.5 million theatre goers who have delighted in its charms.
Starring veteran Goodman thespian Larry Yando, who marks his 10th year as Scrooge and directed by Goodman Artistic Associate Henry Wishcamper, Ron Rains returns for his 11th appearance in the show as the beleaguered Bob Cratchit. The production also features young Paris Strickland in her Goodman debut as the theater's first female Tiny Tim. In another casting gender-switch, Ali Burch, as Frida, the wife of Scrooge's nephew Fred, initiates the original confrontation over Scrooge's Bah Humbug denial of the Christmas Spirit, rather than nephew Fred, as in the original script.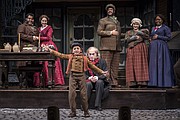 Goodman pioneered the concept of color-blind casting and it is practiced liberally here, with 15 year old Cameron Goode, a young African American actor with impressive theatrical credits across the city, as a young Scrooge, 9 year old Kei, in his professional stage debut as Kei Cratchi and the Turkey Boy ("The one as big as me!!" Scrooge lovingly intones in the play's denouement), a dazzling Penelope Walker as Mrs. Fezziwig and the explosive Lisa Gaye Dixon as Ghost of Christmas Present.

There are visible and audible effects to enliven t he superb interplay of the actors onstage. The entrance of Jacob Marley's Ghost (Joe Froust, returning for his sixth season of Carol) is once again as startling and soul-rumbling as ever. The Goodman will provide as Sensory-Friendly/Relaxed performance of A Christmas Carol at 2pm on Thursday, December 30. For information, visit GoodmanTheatre.org/SensoryPerformance.
In A Christmas Carol, heaven is in the details; a well spoken line, a clever aside, an artfully subtle booty shake (don't worry, it's PG rated!) Its all heartwarming and in good fun and as easy to digest as a piece of Christmas cake. A Christmas Carol is an absolutely delicious Holiday theatrical treat the whole family can enjoy together. Its a great excuse to dress up in your Holiday Best and head out for a full day of shopping, Holiday store decoration browsing on State Street and along the Magnificent Mile, combined with a fun afternoon or evening of Christmas Cheer at the Goodman. Visit goodmantheatre.org.