Irving Berlin's White Christmas, An Early Christmas Card from Broadway in Chicago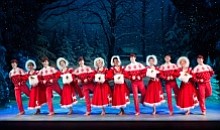 Forget the ugly reindeer sweaters and gifted boxed sox and matching shirt and tie sets this year and buy everyone you know a ticket to see Irving Berlin's White Christmas, The Musical from Broadway In Chicago, now through Dec. 3 at the Cadillac Palace Theatre, 151 W. Randolph.
This holiday classic, based on the 1954 film starring Bing Crosby, Danny Kaye and Rosemary Clooney is completely reworked into a brand new production produced by Work Light Productions with a book by David Ives (author-All In The Timing, Is He Dead?-adapted from Mark Twain) and Paul Blake (Tony, Grammy and Olivier Award winning Beautiful: The Carole King Musical, Sunset Boulevard revival with Glen Close), seamless direction and pulsating choreography by Randy Skinner (nominations for Tony, Drama Desk, Outer Critics, Astaire Awards for Dames at Sea and 42nd Street), Christmas candy colored Original Set Designs by Anna Louizos (three Tony nominations for In The Heights, The Mystery of Edwin Drood and High Fidelity), and eye-popping costumes by Carrie Robbins (30 plus Broadway credits, including Class Act and Grease with John Travolta) with scenic supervision and adaptation by Kenneth Foy, lighting design by Ken Bellington and sound design by Peter Fitzgerald and Eric Bechtel. The national tour is produced by R and H Theatricals with Imagem Company.
The story is a simple one, designed as a coat hanger for some of the best songs of all time, the titled White christmas, and the beloved, Count Your Blessings Instead of Sheep, Happy Holidays, Blue Skies, I Love A Piano and the best tap and show-stopping dance routines ever. Its hard not to sing along and tap your feet throughout this more than two and a half hour show that breezes by from start to finish.
The cast is outstanding with Sean Montgomery of Broadway's Groundhog Day and Jeremy Benton (Broadway 42nd Street opposite Shirley Jones, Astaire Award nomination Off-Broadway in Cagney The Musical) in the title roles as Bob Wallace and Phil Davis, two army buddies and showmen from the 151st Infantry in World War II who hit it big on the Ed Sullivan Show a decade later and find love and dance partners in Kerry Conte and Kelly Sheehan as sister act Betty and Judy Haynes. The two guys eventually follow the girls to a wi nter lodge in Vermont, run by their old Major General Waverly, a crusty but lovable character played to perfection by Conrad John Schuck (Broadway: Annie with Sarah Jessica Parker and Annie Get Your Gun with Reba). The plot centers around their efforts to revive the General's dying retirement business venture by putting on a show featuring performances by members of his old Army unit.
The musical just sails along seamlessly from start to finish with one terrific song and dazzling dance number melting right into the next, most notably the snow-globe finale featuring the title song. Little Makayla Joy Connolly, the sole child performer in the cast, nearly steals the show in her showcase number Let Me Sing and I'm Happy, as Susan Waverly. I've already purchased tickets to see another performance. It's that good! For tickets and information, visit BroadwayinChicago.com.