Road investments needed for future Will County growth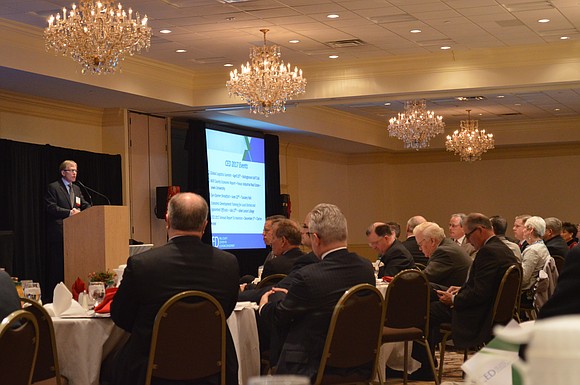 About 3.1 million shipping containers were distributed through Will County's vast intermodal system in 2016.
While more and more of the economic growth in the county has come to rely on the growing logistics and warehousing capabilities being developed, the "large burden" of all of that freight movement will require investment in the local roadways to support it in the future.
That's according to Will County Center for Economic Development CEO John Grueling who said that investment in roads and other infrastructure will be key to making sure that goods get to market in the coming years.
Grueling told investors last week at the CED's annual report breakfast that about 106,000 jobs in the county depend on the transportation industry either directly or indirectly with workers holding jobs in food, manufacturing and technology fields.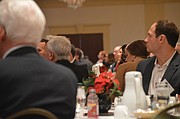 All told the local impact of freight jobs equates to about $30 billion or about 55% of the local economy and about 40% in local taxes.
Grueling highlighted the importance of strengthening the road networks in Will County noting that about $623 billion worth of freight comes through locally equaling about 3.5% of the U.S. Gross Domestic Product. Failing roads and bridges in the area could impede the flow of that freight.
"We need help with our road infrastructure," said Grueling noting needed upgrades to I-80, I-55 and the planned Iliana tollway.
"If you shut down our pipeline for goods, it's going to have dramatic effects on the national economy."
That investment will also help alleviate growing congestion on local roads and highways which impact not just freight but commuters travelling the corridor to and from work. Even without the projected growth in industrial warehousing—100 million square feet in the last 15 years and just as much expected by 2040—Grueling said that just the pass through freight traffic alone will continue to create traffic snarls.
"If you took away all of the intermodal yards all of the warehouse and distribution centers, we would still have 63% of the freight traffic in the County today," he said. That could lead to more traffic safety accidents and more delays but state and federal funding is not keeping up with the demand.
"The way that we fund road improvements today isn't cutting it," he said, noting a recent cut to the IDOT budget to the tune of $300 million.
"All it takes is a little money," said Grueling who estimated the investment needed at around $3.5 billion.
He said that the recently-completed Will County Freight Friendly study identified 93 projects that would "dramatically improve freight and people movement" with the top 4 focused on I-80, the interchange at 55 and 80, I-55 south of I-80 and a new Weber Road interchange at I-55. He also said that the CED and its partners would continue to push to keep the Iliana Roadway project, to improve east-west connectivity, on the list of regional projects for the state despite pushback from Chicago and Cook County.
"They don't have any interest in seeing this road built but we do," he said.