Military mom encourages supporting troops year-round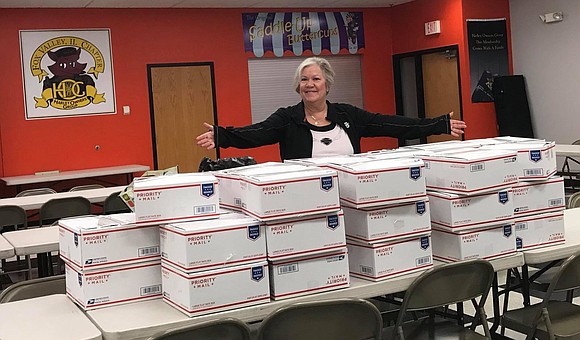 When her son Joseph first joined the Army almost 5 years ago, Joliet resident Geriann Weisbrook didn't know much about the organizations back home that support military personnel deployed overseas.
She sent care packages to him all through basic training and began adding other items for his friends who didn't have the same level of family support.
From that experience, Weisbrook founded her organization, Military Mama Network which has grown to support troops with notes that offer words of encouragement to supplies to assistance for their own families still living in the states.
Weisbrook's organization gets a lot of support during the holidays for their programs but wants to encourage people to commit to that support year round.
"The big thing is continuing with the people you get connected with throughout the year," she said. Non-profits like hers as well as organizations like the USO "get inundated at the holidays and then they literally get nothing the rest of the year."
She said that she reaches out to organizations like the USO and others to find out what they need on a regular basis. Right now, she said, there's a great need for winter supplies in places overseas.
"It's already below zero in South Korea and Afghanistan is really cold right now," she said.
While she hopes that those who want to support the troops over Christmas will do so, she also hopes they make a commitment to doing something the other 11 months of the year as well.
"What they can do is commit to doing something monthly," she said.
For many programs, she said, the deadline has already passed but there are still needs including the Military Mama Network's Elf Project which pairs volunteers with a military family that can't afford Christmas for their kids. The project started with 5 families and has grown to include 100 with about 20 families still in need.
Weisbrook said that for those looking to help out a good first step is to reach out the Military Mama Network (on Facebook @MilitaryMamaNetworkpage) to find out where those needs are.
She said that organizations like the two Chicagoland USO organizations at both O'Hare and Midway Airports are always looking for supplies and other support for troops making their way to a from deployment.
"A lot of times our service members have layovers that last for hours," she said, "And with the weather they can be stuck there overnight." She said that both Chicagoland USOs provide food, snacks, magazines, puzzle books and other items to help pass the time during long layovers.
She said that her organization was busy preparing donations to the USO in Afghanistan which will include shower supplies, snacks as well as cake mixes and frosting which can be used to make birthday cakes for troops celebrating overseas. As a parent, she's contact the USO and they've made sure that her son has a cake on his birthday regardless of where he's stationed. Funds for the program come out of the USO's budget.
"Even just buying 10 cake boxes would be huge for them," she said.
But the biggest donation would be to commit to helping the rest of the year she emphasized again.
"Really it's just the ongoing support," she said.