Principals for a Day at Joliet Public Schools
12/6/2017, 1:11 p.m.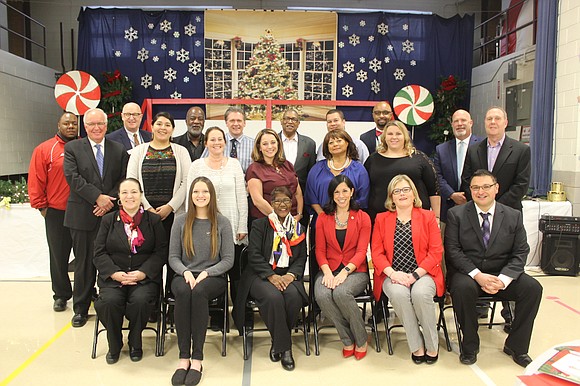 Joliet Public Schools District 86 recently welcomed business and community members into their schools for their 14th Annual Principal for a Day Celebration. Each Honorary Principal spent a half a day at the various schools where they each got a tour of the school and interacted with the students.

Honorary Principals included: T.E. Culbertson Elementary: Lauren Staley-Ferry, Will County Board Member; M.J. Cunningham Elementary: Vincent Gutierrez, Functional Therapy and Rehabilitation; Eisenhower Academy: Moira Dunn, Illinois Assistant State's Attorney; Farragut Elementary: Fredrick Gandy, Lewis University; Forest Park I.E.: Herb Brooks, Jr., Will County Board Member; Thomas Jefferson Elementary: Steve Brandy, Will County Health Department; Edna Keith Elementary: Julia Alexander, TAJH Productions / JCTV Ch.6; A.O. Marshall Elementary: Beatriz Ulloa-Mireles, Will County Coroner's Office; Marycrest Early Childhood Center: Rebecca Kroiss, Childcare Resource and Referral; Pershing Elementary: Christy Lister, 1st National Bank of Ottawa; Sator Sanchez Elementary: Veronica Gloria, Spanish Community Center; Carl Sandburg Elementary: Don Dickinson, Joliet City Councilman; Isaac Singleton Elementary: John Herod, Dow Chemical Company; Taft Elementary: Douglas Lewis, Federal Aviation Administration; Lynne Thigpen Elementary: Randy Chapman, Center for Disability Services; Thompson Instructional Center: Samantha Barnes, The Salvation Army; Woodland Elementary: Cherise Robertson, Catholic Charities – Daybreak; Dirksen Junior High: Steve Vanisko, The Herald News; Gompers Junior High: Patrick McGuire, Illinois State Senator; Hufford Junior High & I.E. Program: Jayme Casimere, The Times Weekly Media Company; and Washington Junior High & Academy: Vincent Cornelius, Attorney.
The honorary principals helped with the morning school announcements, visited classrooms, talked about their careers, presented awards to students, and some even assisted with lunch duty.