"Project Soap" gives back to charities benefitting humans and animals
12/6/2017, 1:46 p.m.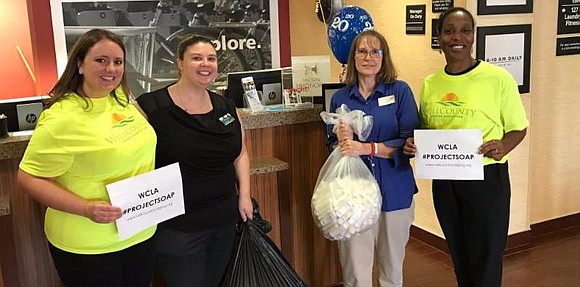 The hotels of the Will County Lodging Association is currently running a unique charitable program that helps both humans and animals that might need a little help. Since July, 11 local hotels have collected over 500 lbs. of toiletries (benefitting Daybreak Center (Catholic Charities, Diocese of Joliet) and the Salvation Army) and over 100 lbs. of linens and towels (benefitting the Will County Humane Society and Joliet Township Animal Control).
Hotels collect partially used toiletries such as bottled shampoo, conditioner, lotion and body wash. These products provide showers and return dignity to those less fortunate in our local community. Laundered sheets and towels deemed unusable for hotel guests are donated to the Will County Human Society and Joliet Animal Control. These sheets and towels are used to help our furry friends feel a little more comfortable and aid in bath time grooming.
Courtney Suchor, Director of the Daybreak Center, stated "We are so grateful to the Will County Lodging Association for the generous Project Soap donation to Catholic Charities' Daybreak Center. As the largest homeless shelter in Will County, we provide services to approximately 1,000 men, women and children experiencing homelessness each year. Many of these individuals come to shelter with very few belongings. Thanks to the Will County Lodging Association, Daybreak is able to provide personal hygiene items to help residents feel welcome and comfortable as they work on transitioning into permanent housing again. Although these are items that many of us take for granted in our daily lives, basics like soap and shampoo can make a huge difference in the life of someone experiencing homelessness."
Captains Dan and Wendy Faundez of The Salvation Army Joliet Corps stated "The Salvation Army in Joliet is thankful for the generous donation from the Will County Lodging Association of hotel toiletries. These items are given to some of the most vulnerable in our community. Simple items like shampoo and soap help provide comfort and dignity to those struggling to get back on their feet."
The following hotels are participating in Project Soap:
· Holiday Inn & Suites Bolingbrook
· Best Western Plus North Joliet
· Hampton Inn Joliet I-55
· Hampton Inn Joliet I-80
· Hollywood Casino Joliet
· Super 8 Joliet
· TownePlace Suites Joliet
· Wingate by Wyndham Joliet
The President of Will County Lodging Association, Dan Scott-Tumbarello, had this to say about the implementation and success of the project, "Our organization and its members believe in giving back to our local communities. We created Project Soap as a way for our hotels, guests and our employees to give back to those in need with direct impact to our communities here in Will County. This program has been extremely successful since its start in the Summer of 2017. The Will County Lodging Association is projecting the addition of 5 more hotels in the county to join Project Soap in 2018!"
If you are a hotel looking to join the endeavors of the Will County Lodging Association, helping to raise their monthly donation to even higher amounts, contact Sarah Vogel at 708-261-5579 or wlcaillinois@gmail.com