Joliet's Gallery 7 moving to Lockport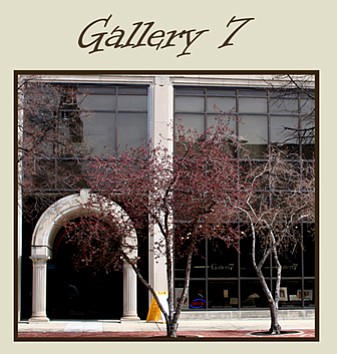 Joliet's Gallery 7 has found a new home in the neighboring City of Lockport.
The gallery had occupied a space owned by the Rialto Square Theater at 116 North Chicago Street since 2009, but learned in October that it had until December to find a new home.
The gallery had operated at the site rent-free for the duration of its time there and had previously occupied another space within the Rialto Square Complex at 7 Van Buren Street.
In its new home, it will occupy a 1200-square foot space in Lockport's historic Gaylord Building said city manager Ben Benson who noted that the gallery will fit in with the town's arts culture.
"Gallery 7 had a long history in Joliet and we hope they find a good home here in Lockport," said Benson who noted that officials from the city reached out to gallery owner Richard Ainsworth when they learned that they were looking for new digs.
"Lockport is kind of an artist town," he said.
In recent years, Lockport has cultivated a long resume of artistic attractions including the Lockport Artists Guild, Flower of Life Art Gallery, Wildwood Art Gallery, as well as the Illinois State Museum and the exhibits of the Gaylord Trust Museum. In addition, the city hosts a fall art series which includes a steam punk weekend and in recent years has hosted a comic book show/convention at its library called Comicopolis.
Benson said that the Gaylord building site at the city's Public Landing receives over 50,000 visitors a year and that Gallery Seven will provide another stop for visitors to the city's downtown.
"It's a good compliment," he said noting that the gallery already was working on plans to partner with the restaurant and banquet space at the Landing for events.
Most of the physical move has taken place said Benson and the new location is expected to have a grand opening sometime in early 2018.
Despite occupying a smaller Benson said that the gallery would have access to offsite storage and a basement which they didn't have in their previous location.
A statement from the city said that the Heritage Corridor CVB and Gallery Seven signed the lease with the Gaylord Building to occupy the 2nd floor exhibit space.
Lockport Mayor Steven Streit said he was thrilled to see another art space being added to Lockport's roster of arts attractions.
Gallery 7 owner Richard Ainsworth first issued a press release in October claiming that he was surprised when he received the notice to vacate the Joliet location.
However, Rialto Square board president Bob Filotto said that board members had broached the subject of the business paying rent as the board looked to bring in more revenue.
"We did speak with them," said Filotto in October who said that rent-free arrangement preceded his or any other board member's tenure on the board.
"We're just trying to generate some cash flow for the theater," he said.