Troy sock drive nets over 400 pairs for MorningStar Mission
12/13/2017, 11:28 a.m.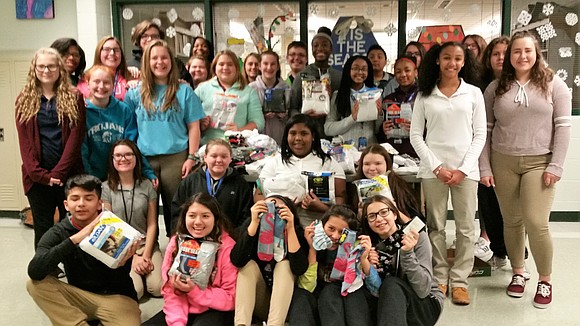 The Troy Middle School club, Troy S.L.A.M., collected more than 400 pairs of socks during a recent drive that will be donated to MorningStar Mission. The club's name is short for Student Leadership and Mentoring.
The club is new to Troy Community School District 30-C this year and was created by sponsors Sandy Smith, Staci Dahlberg and Carley Burke to teach students about the importance of community service through participation in projects that directly benefit local not-for-profit agencies. The club will also promote leadership and school spirit.
MorningStar Mission has served men, women and children in Joliet and Will County since 1909 by providing food for the hungry, clothing for the needy and shelter for the homeless.
S.L.A.M. members decided they wanted to help those by providing warm socks during the winter months. They collected the socks by direct donations and through a Ghost-Gram event where students could use a pair of socks to "purchase" a Tootsie pop ghost-gram that they could give to other students.