Volunteer recognized for work to help veterans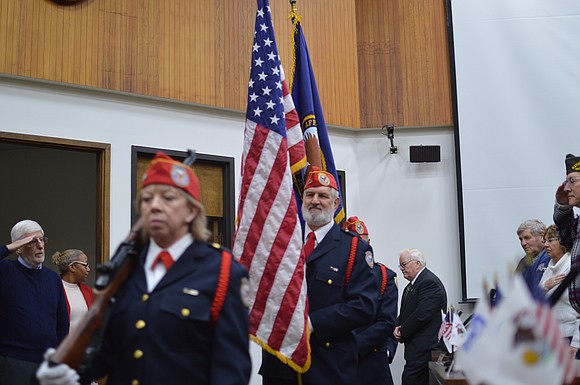 For many years, on Sundays, when most people were settling in to watch a game on TV or recharge before the start of the work week, Jack Picciolo was busy distributing sandwiches to homeless veterans in the City of Chicago. Not just one Sunday a month, or every other Sunday. Every Sunday.
That's according to Dr. Jeanne Douglas,of the Department of Veterans Affairs, who took part in a ceremony this week honoring Picciolo for his work to help veterans throughout Will County and all over the Chicagloand area. Picciolo received the Veterans Patriotic award from the Illinois Department of Veterans Affairs for his years of volunteer work which also includes serving as chairman of the Will County Veteran's Assistance Commission.
Douglas said that volunteer coordinators for the Sandwich Run which brought food to the homeless in the City of Chicago was first established because many food charities were closed on Sunday nights.
The work involved making up to 400 sandwiches, packing a truck, driving it in to the City of Chicago, serving the food, then returning to unpack the truck.
"On a Sunday when most of us would like to kick back, watch a football game, take a nap, go shopping," said Douglas, "instead he was on the sandwich run and huge part of what made it succeed."
Douglas said that Picciolo was unwavering in his dedication, showing up each week to volunteer. It's an example, she said, of his "incredible commitment" and his "quiet, steady sense of mission."
"He came every Sunday rain or shine," she said.
While she said he was best known to her for his work on behalf of homeless veterans, Will County Veteran's Assistance Commission supervisor Kristi McNichol illustrated his wide-ranging volunteerism by asking representatives of non-profits where Picciolo has worked to stand during the ceremony. Those include Catholic Charities, Midwest Shelters for Homeless Veterans, Volunteers of America, Health Care for Homeless Vets, Ladies Auxillary, Will County Veteran's Assistance Commission, the VFW, and the Cemetery Association to name a few.
"This is why Jack was nominated," she said, motioning to nearly everyone at the event standing.
"He makes all of our lives easier."
Picciolo, 75, served in the army during the Vietnam War and wasn't involved with any veteran's charities until he joined the Lockport VFW in 2005, said Carol, his wife of 44 years. Soon after he was elected to be the organization's service officer and that appealed to his love of service and getting things done she said.
"He likes to help veterans," she said. Mrs. Picciolo said that in addition to his volunteer efforts on behalf of veterans, the couple are also environmentalists and volunteer with local animal welfare organizations.
Picciolo said after the ceremony that he doesn't like to dwell on past accomplishments and was already looking ahead to getting more done on behalf of veterans.
"We still have a huge job working toward our goal of totally erasing veteran's homelessness in Will County," he said.
"Not functionally, but totally wiping it out."