Will County Clerk race heats up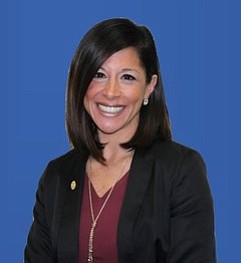 In a biographical statement she posted to the Will County Democratic Party's website when she first ran for a seat on the Will County Board in 2014, Lauren Staley-Ferry emphasized her deep roots in the Joliet community, her commitment to family and to public service.
She grew up in Joliet she wrote, graduated from Joliet Catholic Academy and was married to an electrician husband who works for the City of Joliet. The working mom also attended college classes to finish her degree and found time to run a marathon.
She also talked about her credentials working 8 years for Capital One Bank in a variety of roles the last of which required her to maintain "compliance with legal obligations."
Those legal obligations have caught up with Staley-Ferry, following revelations that she stole funds while living in Arizona in 2002, for which the Will County board member and candidate for Will County Clerk, issued an apology last week.
"Over 15 years ago I faced what I believe to be an extreme situation with no way out. I made a mistake that I am truly sorry for. When confronted then, I told the truth and did my best to rectify the situation. In the many years since then, I have continually worked to make up for my past and become a person people depend upon and trust," read the statement.
While living in Arizona in 2002, the then 24-year old Staley-Ferry was charged with forging a check made out to herself for $500 at her job at Independent Capital Group. She was charged with felony forgery but left the state before the case could be adjudicated in the courts. The charges were later dropped.
Staley-Ferry was first elected to the Will County Board in 2014 to represent District 9 which includes parts of Plainfield, Troy Township, New Lenox, Homer Glen, Lockport, and Joliet.
While her statement notes that she attempted to "rectify the situation," Staley-Ferry said in a radio interview last week that she was in "the process of following up with an attorney" when she was asked whether the money had ever been paid back to her former employer.
"If it's not been paid, it will be paid," she said.

A police report from 2002 indicates that Staley-Ferry told police that she had contacted her former employer, apologized for the theft of funds, and had sent a check for $250 to make partial restitution though it's not clear from the report whether full or partial payment had ever been received. She also inquired with the detective handling the case at the time whether the charges could be dropped but was told that it would be up to her former employer.
Her recent statement emphasizes her attempts to improve her life since the theft of funds occurred, focusing on her service to local non-profit organizations and her service as a Will County Board member.
"I'm far from perfect but have used my past experiences to make positive changes in my life. Since then, I have continually worked to not let this incident define me, and to be an honorable person," the statement read.