Shorewood Police donate to Children's Advocacy Center
12/20/2017, 11:45 a.m.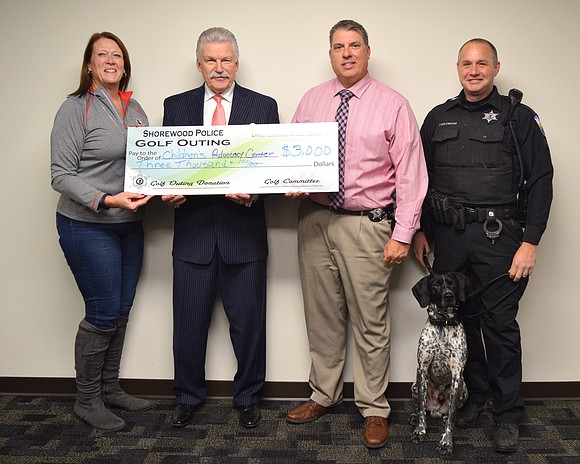 Will County State's Attorney James Glasgow welcomed a recent visit by Shorewood Police Department members who presented a generous $3,000 check to benefit the Will County Children's Advocacy Center, a not-for-profit agency he founded 22 years ago.
The Children's Advocacy Center was one of the beneficiaries of this year's Shorewood Police Department Golf Outing held in September at Heritage Bluff Golf Club.
The check was presented to State's Attorney Glasgow by Det. Paul Hulbert, K9 Officer John Coldwater, and Donna Prince, Administrative Assistant to the Police Chief.
State's Attorney Glasgow, who chairs the Board of Directors for the Children's Advocacy Center, established the agency in 1995 to improve the way allegations of child sexual abuse are investigated.
When children make an outcry of sexual abuse, they are brought to the center, where trained and compassionate forensic interviewers obtain accurate statements in a neutral, non-suggestive and child-friendly environment. Interviews recorded at the center have been used to successfully prosecute thousands of child predators. In addition, the center's experienced staff provides children and families with advocacy, counseling and social services that enable the healing process to begin.
The Shorewood Police Department understands the important work performed by the Children's Advocacy Center and has referred many child sexual abuse cases to the agency over the years. In 2017 alone, the Children's Advocacy Center conducted 12 forensic interviews with children and handled 13 service referrals stemming from Shorewood investigations. The sexual abuse of children can happen in any community.
"I cannot stress how meaningful it is when police agencies step forward and acknowledge the role that the Will County Children's Advocacy Center plays in their criminal investigations," said State's Attorney Glasgow. "Thank you to the Shorewood Police Department for partnering with us as we bring hope, healing, and justice to sexually abused children."
For information about the Will County Children's Advocacy Center, call (815) 774-4565 or visit on the Web at www.willcountycac.org.