Best Films of 2017
Dwight Brown-Film Critic | 12/28/2017, 8:05 a.m.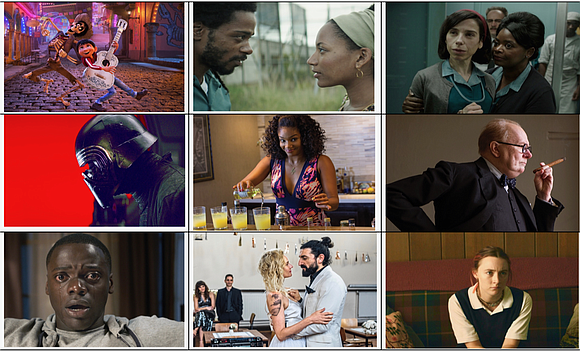 As we look back on the highest caliber films of 2017, the array is diverse, the talent is strong and the entertainment value is solid.

These are the films that will make you laugh, cry, think, hug someone or wish you had super powers.
The following films opened in 2017, are still at a theater near you or will be on a streaming service shortly. Enjoy.
Best Films
Battle of the Sexes (*1/2) In the 1970s, Grand Slam tennis champion Billie Jean King (Emma Stone) and over-the-hill tennis pro Bobby Riggs (Steve Carell) duke it out in the pivotal tennis match of the century. Their battle is stil socially relevant today. Stone brings King's raw courage to life and the dawning of her new sexual identity is profound. Carell gives Riggs the right dose of bluster. Well directed by Jonathan Dayton and Valarie Faris (Little Miss Sunshine).
Coco () This American-made animated film shows such great respect for Mexican culture. It takes you to unimaginable places where humans and spooky creatures collide all synched around the holiday Day of the Dead (Día de los Muertos). Rich palette of colors. Lively musical score. Firmly and affectionately voiced by Anthony Gonzalez, Benjamin Bratt, Gael García Bernal and Renée Victor. Co-directed by Lee Unkrich and Adrian Molina. A joy to watch.
Crown Heights (*1/2) Everyday heroes are on view in this simple yet courageous story about two friends whose bond is stronger than a crooked Brooklyn District Attorney. In the wake of misguided films like "Detroit," "Crown Heights" is a godsend. Director/writer Matt Ruskin's understated style makes the film seem real. Lakeith Stanfield shines in the lead as a wrongfully convicted suspect. Nnamdi Asomugha plays the friend who never gives up on him. Pure inspiration.
Darkest Hour () Sure, Gary Oldman chews up the scenery as the stalwart Winston Churchill in this World War II film about Germany's impending invasion of Britain. He deserves an Oscar for his interpretation and so does his makeup man who turns the slim actor into the stout world leader. Brilliant direction by Joe Wright. Smart script by Anthony McCarten. Superb cinematography by Bruno Delbonnel.
Get Out (*) It's quite surprising and fresh that in his first outing as a filmmaker, Comedy Central star Jordan Peele gets so much right about the art of making a drama/horror movie. Aptly he captures that insular foreign feeling black people have when they are in a room full of awkward-acting whites. Then he cranks the horror up a notch to a high crazy/weird decibel. Daniel Kaluuya is the face of the common man. Milton "Lil Rel" Howery is his hysterical wingman. Best First Film of the year, hands down.
Girls Trip () This hilarious and relentlessly bawdy take on a girls' weekend reunion in New Orleans is a cross between Bridesmaids and The Hangover, only more outrageous. Praise to screenwriters Kenya Barris (TV's Black-ish) and Tracy Oliver and director Malcolm Lee. Rain accolades on Tiffany Haddish for her impressive comedy chops and equal doses of love to Regina Hall, Jada Pinkett Smith and Queen Latifah for giving us a great laugh. Best Comedy of the Year.