Democratic Women of Will County hold annual meeting in Bolingbrook
Alex Ortiz | 2/1/2017, 1:08 p.m. | Updated on 1/30/2017, 10:33 a.m.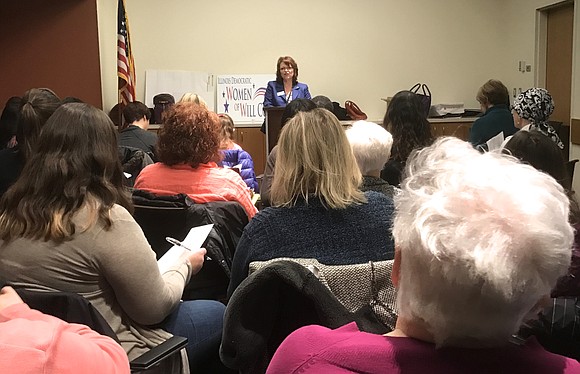 Just a few minutes before the start of their annual meeting, about 50 members of the Illinois Democratic Women of Will County were gathered at the Fountaindale Public Library in Bolingbrook.
They came from all over the county, from other parts of the Chicago land area and from all over the state of Illinois. There were women who hold public office, others who were seeking to run, and still some who were just wondering what they could do next to get involved.
There were so many in attendance, in fact, that they eventually ran out of chairs.
"This is a good problem to have," said Jackie Traynere, the organization's outgoing president and a candidate running for mayor of Bolingbrook.
While the group took care of things like nominating new officers, the main piece of business for the night was to discuss how best move forward under the Trump administration and what to do as local elections approach on April 4.
The group asked Denise Barreto to speak. Barreto, of Relationships Matter Now, a strategic brand consultant firm, was elected to two terms on the Board of Trustees in Lake in the Hills and spent 20 years as a corporate strategist in the private sector.
Barreto came to share her story and experience fighting for progressive values at the local level and what she's learned from her battles. But before she shared her years of knowledge, she wanted to know exactly how invested the group of women were.
"Are you going to be in the arena with me or not?" Barreto said. "I've been in the arena fighting. Man, I got the scars to show you."
Her message centered on the necessity to step up and not wait for a political savior. She also emphasized the need for intersectional and inclusive activism, meaning she did not want the group just to focus on women's issues, but issues regarding all sorts of marginalized peoples. So Barreto asked the attendees why they wanted to get involved.
The answers were as varied as the women who were in attendance:
"I'm tired of feeling alone."
"I want to make a difference."
"I'm here for my children."
"I'm an American Jew and I'm furious."
"I'm terrified for my black son."
For Barreto and the Democratic Women of Will County, the next step was finding an avenue through which to channel those feelings. The group discussed what concerned attendees could start doing on a local level to make an impact like becoming a precinct committeeman, who essentially volunteers to talk to their neighbors about the Democratic party.
"We always talk about some members making 10 phone calls a week," said Karen Johnson, the vice president of the Democratic Women of Will County. "That helps immensely."
Group leaders were encouraged by the new members coming to sign up and the ideas being suggested for how to get involved.
"I was very impressed," said Illinois State Senator Jennifer Bertino-Tarrant. "I was excited about the outcome. We weren't really sure who would come and how the turnout would be but this was a pleasant surprise. I think we have a lot of energy here."
"People who want to do things, not just talk about it but take action."