Garlic Parmesan Wings
2/1/2017, 11 a.m.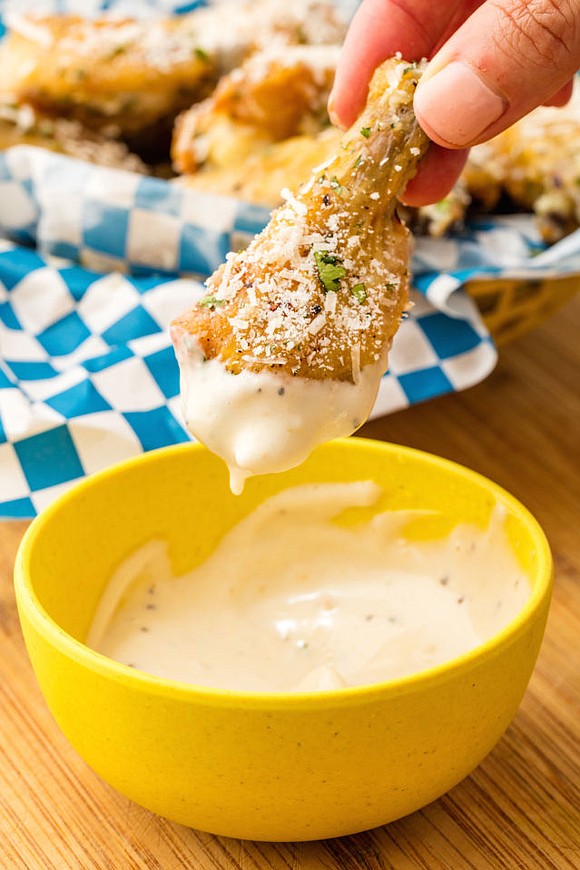 SERVINGS: 6
INGREDIENTS
1 lb. chicken wings
1-2 tbsp. vegetable oil
kosher salt
Freshly ground black pepper
1 stick melted butter
4 cloves garlic, minced
2 tbsp. Freshly Chopped Parsley
3/4 c. shredded Parmesan, plus more for garnish
1 tsp. red pepper flakes
Caesar dressing, for dipping
DIRECTIONS
1 Preheat oven to 400 degrees F. Toss chicken wings with oil and season with salt and pepper.
2 Place a wire rack on top of a baking sheet. Place wings on top of wire rack and bake until golden and crispy, 50 to 55 minutes.
3 Make sauce: In a large bowl, stir together melted butter, garlic, parsley, Parmesan, and crushed red pepper flakes. Add wings and toss until completely coated.
4 Place on a serving platter, sprinkle with more Parmesan, and serve with Caesar dressing.