Bolingbrook and Romeoville students headed to state
2/3/2017, 6 a.m.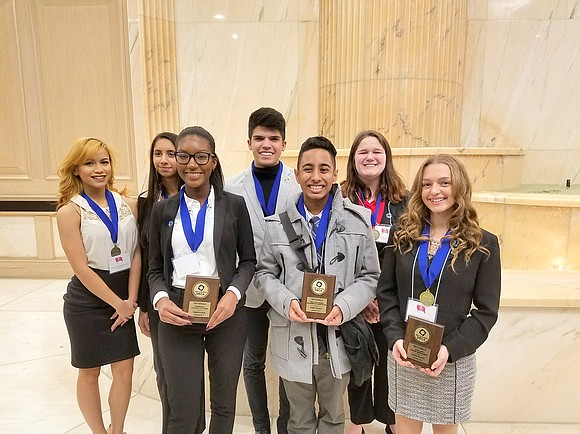 Six Bolingbrook High School students qualified for the March 9-11 DECA state competition with outstanding performances at the Rosemont sectional over the weekend.
In addition 21 more Romeoville and 16 Bolingbrook high school students will also compete at state, qualifying through a writing event. These written events have more than just writing. Some are simulations on-line (stock market game), some are marketing research of an existing business and creating a marketing plan, some are actual entrepreneurship business students set up and run.
Sectional state qualifiers from BHS include: Josh Kurian, 1st in Principles of Business Management and Administration; Asta Gueye, 3rd in Principles of Hospitality and Tourism; Kaitlyn Svinning, 3rd in Hotel and Lodging Management Series; Gabe Ayala, and Payton Eken, top ten finishers in Quick Serve Restaurant Management;
Sabrina Emocling, top ten finisher in Apparel and Accessories Marketing Services; and
Jagroop Singh, top ten finisher in Principles of Marketing.
Qualifying for state through the writing event from RHS were Sharf Abutaleb, Lizet Audelo-Luna, Carmen Owinongya, Eduardo Cortes, Melaine Diep, Ryan Ferguson, Anthony Franco, Tyler Franzen, Kendall Hileman, Abby Isaguirre, Aiman Ghani, Matt Kinder, Mariela Medina, Carlos Ramirez, Jacob Salazar, Justin Suits, Adam Suliga, Ryan Syed, Tyler Wallace, Eric Wilhoyt and Sorie Yillah.
Qualifying for state through the writing event for BHS were Prophecy Agyare, Keziah Buabeng, Carolina Carreto, Jagroop Singh, Benz Hoffmeyer, Payton Eken, Erica Neal, Keyaira Austin, Darnisha Crockett, Jocelyn Gonzalez, Pahul Kaur, Nehal Kaur
Josh Kurian, Lagoke Sapara, Asta Gueye and Gabe Ayala.
Tom Hanlon advises the BHS DECA team. Rick Rujawitz advises the RHS DECA team.
Photo attached—BHS sectional qualifiers