Senator Bertino-Tarrant hosting kids' fair Feb. 20
2/7/2017, 8:04 a.m.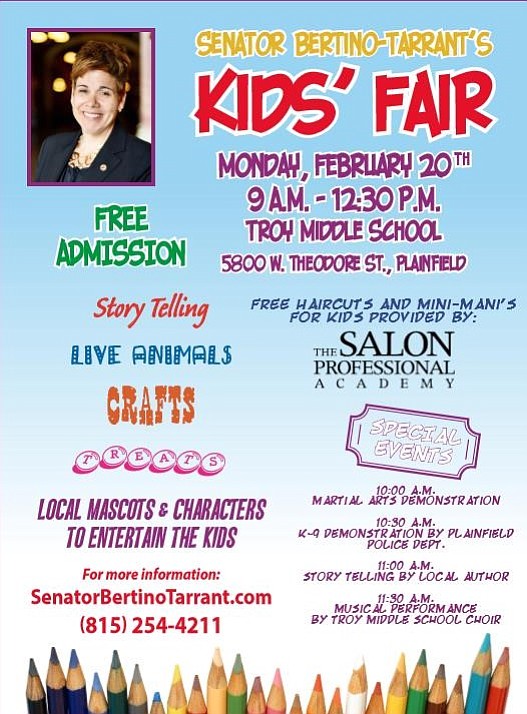 State Sen. Jennifer Bertino-Tarrant (Shorewood) will host her annual free kids' fair for elementary students in February. The event will take place from 9 a.m. to 12:30 p.m. Monday, Feb. 20, at Troy Middle School, 5800 W. Theodore St., Plainfield.
"This is an opportunity for area students and their families to enjoy a fun and educational event when schools are closed for the holiday," Bertino-Tarrant said.
Storytelling, live animals and other activities will provide entertainment for children. In addition, free haircuts will be given by the Salon Professional Academy of Shorewood. Special events, such as a martial arts demonstration, musical performance by the Troy Middle School Choir and K9 Demonstration by the Plainfield Police Department, will also take place.
The event will also be offering a mom's stroller fitness class. The class will be a part of the beginning of the expo and is offered from 9 a.m. to 10 a.m. A general form will be required to participate and the class will start promptly. Call the office with additional questions.
Bertino-Tarrant's office still has openings for child-centred organizations to participate in this free event. Organizations interested in participating can complete the registration process through Bertino-Tarrant's website (www.seantorbertinotarrant.com).