Joliet facing future water supply shortage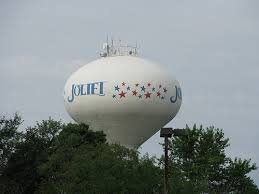 Joliet's water source could run to critically low levels in about 15 years. That's according to a report delivered by retired Aurora Mayor Tome Weisner at Tuesday night's city council meeting.
Weisner was asked to deliver a report on how his city dealt with its shrinking water supply that also coincided with a period of fast growth in the town of just over 200,000.
At the time, 30 years ago, Weisner said that Aurora was the fastest growing city in Illinois, similar to the rapid growth that Joliet has seen over the past decade. At its peak Aurora and the other communities relying on an aquifer were withdrawing up to 190 million gallons per day which is 3 to 4 times the sustainable level.
That's when the town learned that the deep sandstone aquifer it used for its water source was running low.
"It forced us to reappraise the water source and supply system in order to preserve our future viability," Weisner told the board.
A recent special census showed that Joliet is growing quickly taking the 3rd most populace city ranking from Rockford. The city has also seen rapid industrial and commercial growth with big name employers like Amazon.com setting up shop in the last year.
"While that growth portends good things it also means thousands more faucets running, toilets flushing, and lawns being watered," said Weisner.
The mayor said that residents in the Midwest have to change their thinking that has lead many to take for granted that the area is "rich in water."
"It's an assumption we can no longer make."
11 counties formed the Water 2050 regional forum ten years ago through CMAP to plan for new water sources which can include Lake Michigan water pipelines, which is currently in the works in neighboring Shorewood, or river water sources. Aurora eventually tapped the nearby Fox River as their primary source but kept the deep well sources as a backup in times of drought.
The Northwest Water Planning Alliance was also formed to address issues specific to those 1.3 million residents living in 80 communities in Kendall, Kane, DeKalb, McHenry and Lake Counties.
Three of those communities-- Oswego, Montgomery and Yorkville—are currently collaborating on a new water source.
Current projections show that the source of water that Joliet draws from the Galesburg and St. Petersburg aquifers could run critically low in as soon as 15 years. Some wells are close to the deepest possible depth already said Weisner who noted that even without any growth that the source will continue to decline. With new growth levels will decrease even more rapidly.
"Scientists are estimating that you don't have a whole lot of time," he said adding that the time is now to begin planning for a new source of water.
"While 15 to 20 years may sound like a long time, it's really not," noting that planning, permitting, and construction of a new water source could take up to 10 years.
The most likely source available for the city he said would be the Kankakee River with the well system kept on as a backup.
"The sooner the city of Joliet switches to a sustainable source the better off the city will be," he said.
Mayor Bob O'Dekirk said that he was going to reappoint members to the city's long-dormant environmental refuse commission to begin studying the issue and come up with a plan.
"Obviously this is an issue we have to start looking into," said the mayor adding that he'd like to "fast track" the planning to have a course of action in the next 5 years.